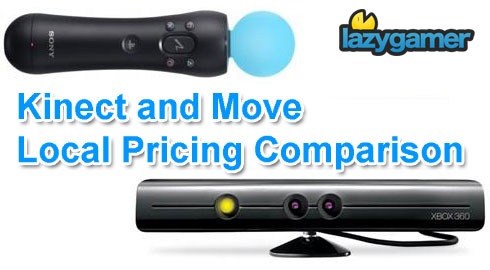 It's almost time for the HD motion-controller "revolution." Both the Playstation 3 and the Xbox 360 will be getting their waggle on soon. The Playstation 3 will be receiving the decidedly Wii-like Playstation Move next month, while the Xbox 360 will receive full-body controllerless motion control via Kinect in November.
If the new wave of waggle has your interest piqued, take a look after the jump for a few local retailer comparisons – so you can see which one will get you game for the least.
Looks like Kalahari.net will be cheapest for Sony's motion controller, with BT Games supplying Microsoft's Kinect at the most wallet-friendly price. the only caveat with BT's Kinect pricing is they specify it's for in-store collection only – so if you factor in delivery Kalahari once again comes up trumps; they offer free delivery on orders totalling over R385.
Kinect will allow for 2-player multiplayer gaming out of the box, with no additional accessories or peripherals required. It'll also ship with Kinect Adventures Packed in – so no immediate game purchases are necessary.
For multiplayer Move action you'd probably want the Move bundle, and extra wand – and possibly two sub-controllers, although those are optional. With that in mind, you're looking at a total of R 978.90 from Kalahari without extra sub-cons, or R1566.80 with two. If you already have the PS Eye, your cost for a two player Move setup will be R759.90, or R1347.80 with two sub-cons. Remember, Move ships without any games – although the bundle does include a demo disc – so you'll probably want to pick up a game or two.
Kalahari once again seems to be cheapest there, with Move and Kinect games hovering around the R330 margin.
Please note that these are all online pre-order prices, and are subject to change. Pricing and information correct at time of publication.
[Update]
Zaps has come to the party in a big, big way – dropping their prices considerably. They're now the cheapest place to get PlayStation move peripherals.
This is not a paid-for advertisement in any way. thanks to RSA-Ace for most of the information.
Last Updated: August 20, 2010