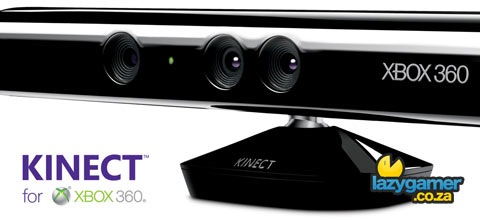 So we've just got back from the Kinect launch (and a beer) and it's time to post up some feelings. The launch itself had a lot to show us and nothing seems to fit it better than doing a The Good, The Bad and The Ugly.
As always lets start with
The Good
As expected the reveal was a huge spectacle with a ton of people, bright lights, cameras and some decent looking titles coming down the line from the Project Natal team.
The best of the bunch, or the ones I expect to sell by the bucketload are
Yoga

It was no surprise that a fitness game of some sort was revealed but I have to admit that the fact that Kinect can track your entire body and ensure your arms and legs are in the correct position really makes this game a must have for every bored (or active) housewife on the planet.

Stupid Platform Game

They didn't announce a name for this one but it's basically you on a platform and you need to jump to make it move faster and then icons of some sort appear in front and you need to bend your body in that shape to get all the icons. Sort of like Human Tetris.

Joy Ride

Arcade styled racer where up to 2 (that we saw) people can race against each other and pull of awesome stunts by flicking their body as they go.

Star Wars

Light sabres, using the force to move large objects or multiple enemies and speed bursts… all done by motion control. The crowd went wild.
Along with the games we were also shown video conference calling, photo sharing and multimedia controls using hand gestures.
The Bad
The bad can be summed up in two neat parts, the first being that no one at the event was given any hands on time with Kinect. There wasn't a single booth or public area that we could use to even see if works at all.
The second follows on from the first and makes it even more worrying, the show was pretty much a canned show. They had actors up pretending they were using Kinect but if you watched carefully you could see that they were purely mimicking the actions and the show was just going to play no matter what happened.
It went fine and was mostly in time, though it was disturbing to see that they had added in glitches to the movement to possibly make you think it was being played in real time?
The Ugly
Oddly enough the ugly in my opinion was all down to Cirque De Soleil. They kept us entertained while we waited, which ended up being around 90 minutes. But apart from being an odd side show I never felt intrigued by what they were showing.
I read previously that the idea put forward by Cirque De Soleil was to lead us on a journey of how gaming and entertainment had changed over 3 vitals steps up until where we are today. But I seriously didn't get that feeling when watching the show.
The other ugly is the fact that not a single soul stood up and said anything to us live, it was an entirely planned show from beginning to end and very little apart from the new name and dodgy logo was revealed.
We have no idea on an exact release date or price yet or whether it will be bundled with the Xbox 360 or not.
Conclusion
What I did see I generally thought was really good, if Kinect actually works I expect it to sell by the bucketload and be a great success.
And whether it works or not we should be able to tell you tomorrow.
Last Updated: June 14, 2010