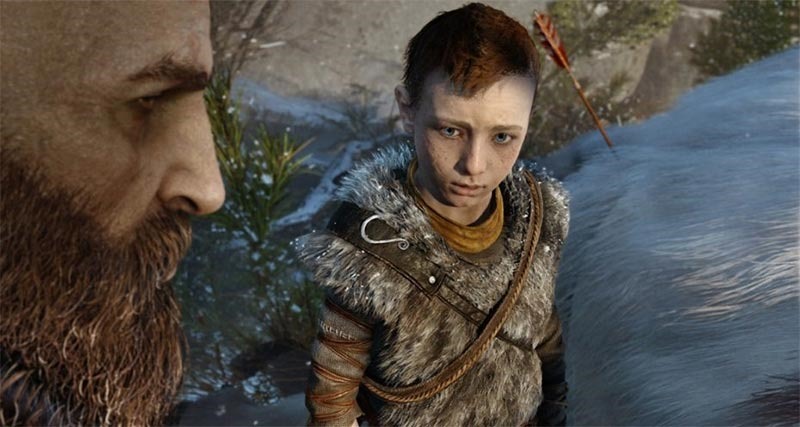 Sony's E3 conference this year started off beautifully,  with a brand new God of War. It's taking the series in a new direction, one that's more measured and thoughtful. While it will stillhave wanton violence and battles against great big mythical beasts, it features an older, bearded Kratos who's trying to come to terms with his rage and keep it in check.
It's something he's doing for his son. That sort of companion relationship means God of War may have inherited a little of the Last of Us' DNA, but it's a reflection of how games are changing, for the better I think.
Instead of Kratos just being an outlet for violence, God of War is about something more.  Speaking to Gamesradar, gameplay engineering lead Jeet Shroff said that this new game humanises Kratos.
"Kratos has struggled with his rage and he blames his rage for a lot of his past mistakes", says Shroff. "Now he has a son, he's a father [and] Kratos is struggling with this idea of trying to bottle down this rage and shield his son from what he has inside of him".

"It's a journey between you and your son…You play as Kratos but it's a journey between both of you in the world."

"The game is Kratos trying to work out what it means to be a father," says Shroff, "and teaching his son what it means to survive in this hostile environment". It's a two way road though: "on the flip side it's also about the son teaching Kratos a little bit about what it means to human, and humanising Kratos. And as the journey goes on you'll see us playing into that space".
The ultra-violent aggression and contrived QTE sexual conquests are a thing of the past. Kratos has changed, says returning director Cory Barlog.
"That is, I think, his past. It's something that formed who he is and where we are, but this is a new chapter for him. He's advanced. To me, the beginning of this game is a lot like the movie Unforgiven, with Clint Eastwood, where he's called back into action after he's had to calm himself. Or Old Man Logan in the Marvel comics.

It hearkens back to that question of, "How much of our real self do we show to our children?" There's a mask we wear to hide from them for their own good. When you have the kind of skeletons in the closet that Kratos has, you do that for good reason."
I've always enjoyed the God of War games as a bit of mindless entertainment – and I look forward to enjoying this new one as something perhaps a little more emotive and meaningful.
Last Updated: June 21, 2016