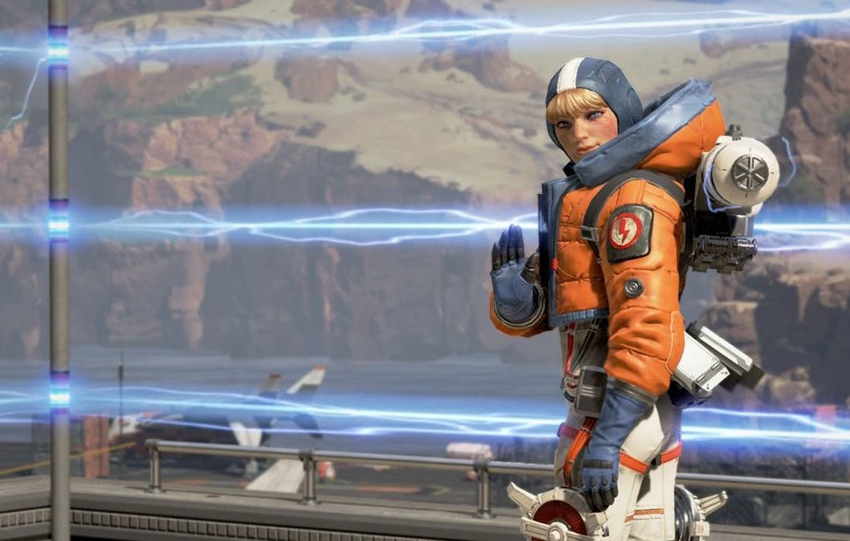 Apex Legends season two officially kicks off in a few days time, but we knew that developers Respawn Entertainment were building to something this week. Following a series of teases uncovered by dataminers involving a mysterious hacker named Crypto, we got a couple of the alien flyer "dragons" enter the game's map as a repulsor tower (which normally keeps the local fauna away) had seemingly been hacked. On Tuesday past though, the repulsor tower was repaired again – presumably by upcoming new character Wattson – and the flyers were gone… Not for long though!
That's what we can now confirm as a pair of season two trailers that were supposed to be released tonight have leaked online early. One is a fantastic little cinematic teaser that clearly shows Wattson now fighting alongside the game's other legends, but we also get our first official look at Crypto – well, his hands and his laptop – as he unleashes some cataclysmic chaos on King's Canyon with an EMP.
I have to say, I love that Respawn are now taking a page out of Overwatch's book with these animated shorts, elaborating much more on personalities and stories of the legends. More of this, please!
As for the second leaked vid, it's a gameplay trailer showing a whole lot more as it's revealed that there's been a time jump since Crypto's EMP took out the Repulsor allowing the Flyers and Leviathans to completely invade King Canyon. The map has now been altered significantly with new areas and others significantly changed as nature reclaimed it in the absence of the Legends.
It's not just the new look King's Canyon and some free-roaming beasties though. Season Two – titled Battle Charge – will also bring with it the introduction of skydiving emotes, the previously revealed L-Star epic weapon, and a collection of brand new legendary skins for both characters and weapons. It's all looking pretty damn epic (calling it now: Crypto to be a mid-season hero release!), and I can't wait for Apex Legends season two to kick off. Officially that is set to happen on this coming Tuesday, 2 July.
Last Updated: June 27, 2019