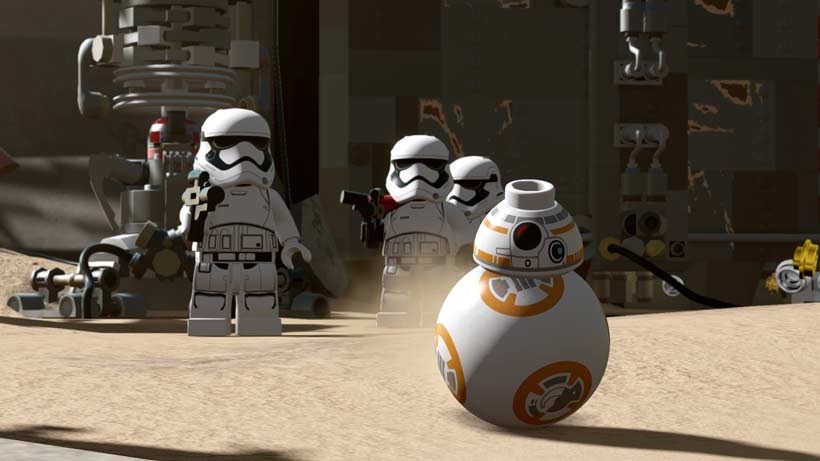 LEGO! STAR WARS! The best of two worlds, reunited at last and it feels so good. Thing is, a LEGO Star Wars: The Force Awakens game may be arriving too soon. After all, can you spin an entire LEGO game out of just one movie? …Wait, nevermind, that's a stupid question. Of course developer TT Fusion can do just that. They've done it several times before already.
Thing is, there's going to be a natural fear that this tie-in LEGO game will be shorter than Geoff's fuse at a homeopathic convention. There's only so much that you can build around from the latest Star Wars movie. Unless you add some additional content that is. Which is exactly what TT Fusion will be doing.
"The thing with The Force Awakens is that we've had the privilege of being able to create some additional content," head of Design Mike Taylor said to Game Informer.

Some additional levels that take place before the events of The Force Awakens and allow us to explore some of the backstory of the characters, which is an absolute dream for any fan of Star Wars.

We've covered–or are in the process of covering–some pretty significant events that happen before the film that give people more information about why certain things in The Force Awakens happened and why certain characters have ended up where they are.
Some of that new gameplay will be drawn from "the content in some of the other additional materials that Lucasfilm have been involved in", which means comic books of course. Like the one where C3P0 got a nice shiny new red arm that had a fanatical devotion to the pope. TT Fusion says that there'll be six of these "bridge content" missions in LEGO Star Wars: The Force Awakens , which will be unlocked by collecting some of those all-important gold bricks found in every LEGO game.
"I can remember the first day on the project and we said that we'd be doing those sort of levels and content, and I couldn't believe that we were going to get to make our own content that was going to be part of the Star Wars universe,"game director Jamie Eden explained.

We tell the story through the sort of Lego viewpoint as well, so the crux of the story is what happens is true to the IP, obviously we put gags in with characters holding sausages or riding around on pigs, et cetera.
It'll most likely be the usual brand of LEGO shenanigans, if the June 28 release date on PS4, Xbox One, PS3, Xbox 360 and PC is anything to go by. But I'm sort of keen to play around as miniature versions of Rey, Finn, Poe Dameron, Han Solo, Chewbacca, C-3PO, BB-8, Kylo Ren, General Hux and Captain Phasma.
Last Updated: February 9, 2016