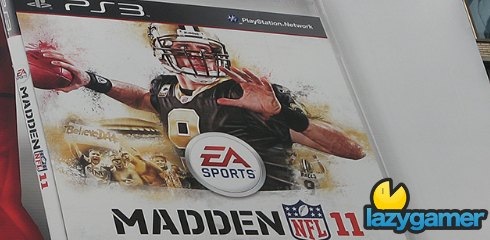 EA have revealed the cover art for Madden 11 overnight in your typical over the top fashion. While we all normally see new cover art by reading about it on the Internet or simply wandering into stores the Madden cover art is actually unveiled on a huge billboard in New York City's Time Square.
The big news for Madden fans this year is that Drew Brees was chosen by the fans as the cover athlete this year… unfortunately I have no idea who that is but I am very happy for him I guess.
In more interesting news EA have decided to go with the PS3 version of the cover for their monstrous billboard, this despite the fact that the Xbox 360 version normally outsells the PS3 version by a huge margin.
That margin being 500 000 last year and 700 000 the year previously.
There are two reasons I can think of why EA decided to go with the PS3 version, the first being that it sells less so they are trying to boost the exposure for that platform to hopefully increase all sales in general..
The second is less likely but more interesting to discuss and that is that Sony are secretly paying EA for exclusive coverage as EA do seem to be favouring the PS3 version of all their titles at the moment.
Check out more shots of the billboards unveiling over at Destructoid.
Source: Destructoid
Last Updated: April 23, 2010