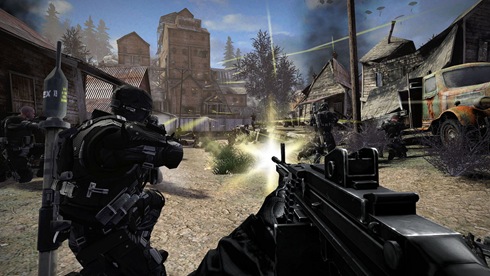 The MAG beta is coming to an end and it's time to look back and answer that all important question.
Is it any good?
Well in a nutshell… No… nah we're just joking it is apparently really good. Unfortunately we didn't get a Beta invite (must have got lost in the mail) but GamesRadar has put up a pretty lengthy piece detailing to good parts and bad parts of the beta.
In short the game doesn't lag which is incredible and while it isn't the best looking game it is not ugly by any stretch. You are part of a smaller 8 man squad so at times it fells very much like 8v8 but the squads can all fight over the same patch of ground and then it really does become epic.
On the bad side the game takes forever to start as it seems to need 256 players before starting so prepare for 30 minute waits, the guns don't feel right just yet and the vehicles just don't fit.
The key thing for me out of the whole article is that it didn't lag which means that consoles can have huge games and we may be able to get back to that true Battlefield experience in the future. If only Sony and Zipper would explain how they did it. It's not the PSN either, there is a whole new server infrastructure for this game.
Source: GamesRadar
Last Updated: December 10, 2009