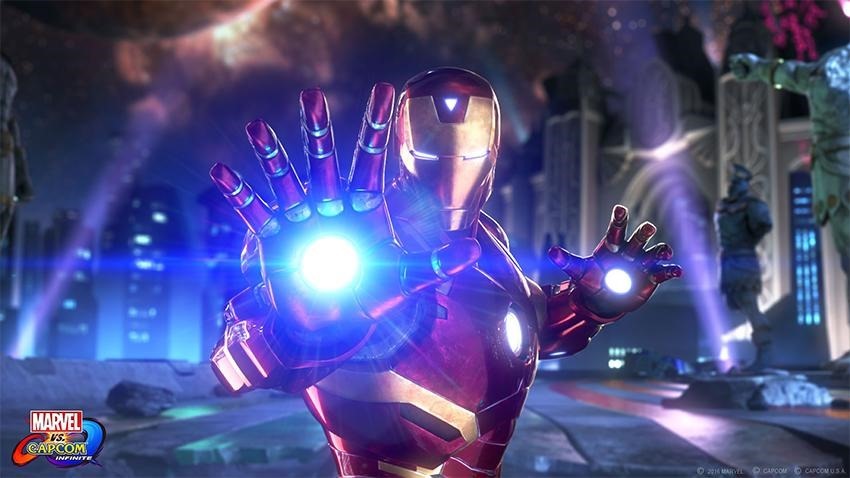 I have a lot of love for Marvel vs Capcom as a series. The second game in particular was a favourite of mine, gobbling up countless coins in the arcade, before its perfect Dreamcast home version ate up just as much time. Its battles, pitting Capcom's heroes and villains against those from comic books in frantic fights had an incredible roster of 56 characters. From there, the series has only become more chaotic.
I'm a bit ambivalent towards the new one though. Marvel vs Capcom Infinite is coming in September, but is recent demo put me off. The core gameplay seems solid enough, but there was just something off about the demo, both in its stiffness, and its odd aesthetic. Capcom has said it plans to fix at least one of those – and judging by a new trailer they've made good on their word.
The seeming exclusion of anything to do with the X-men is also a bit of a sore point for many fans. At least's it's launching as a "complete" game, unlike Street Fighter V did – so it'll have a full story mode, an arcade mode, training online pay for casual and ranked matches, 8-player lobbies and more.
Capcom's released a new trailer detailing its story mode, showing off how characters from both universes team up to battle Ultron Sigma. Take a look:
Here's a recap of the game's on and offline features.
Offline Modes and Features
Story – puts players at the center of a fierce battle as heroes from both universes come together to stop Ultron Sigma, the combined form of two robotic villains.
Arcade – recreates the classic arcade experience. Keep winning to move forward and confront the final boss in an epic showdown of skills.
Mission – players can do various tutorial missions, or try their hand at advanced character-specific challenges.
Training – set up a training area with various parameters and hone skills to improve fighting abilities.
Vs. Player 2 – go head-to-head against another player locally.
Vs. CPU – play solo against an AI-controlled opponent.
Collection – the Dr. Light Database contains numerous unlockable items, including cut scenes from the story mode, character/stage information, concept artwork and character/stage audio tracks.
Online Modes and Features
Ranked Match – battle other players online to advance in the rankings.
Casual Match – battle other players online without the results affecting the rankings.
Beginners League – a special league fought between players of Rank 14 or lower.
Lobby – search for or create a lobby where up to 8 players can engage in simultaneous player-vs-player matches.
Rankings – view the rankings of players from all over the world.
Replay Settings – configure replay settings and view replays.
And here's a look at the confirmed roster so far.
| Marvel | Capcom |
| --- | --- |
| Captain America | Arthur |
| Captain Marvel | Bionic Commando |
| Doctor Strange | Chris Redfield |
| Dormammu | Chun-li |
| Gamora | Dante |
| Ghost Rider | Firebrand |
| Hawkeye | Frank West |
| Hulk | Jedah |
| Iron Man | Mega Man X |
| Nova | Mike Haggar |
| Rocket Raccoon | Morrigan |
| Spider-Man | Nemesis |
| Thanos | Ryu |
| Thor | Strider Hiryu |
| Ultron | Zero |
Last Updated: August 18, 2017