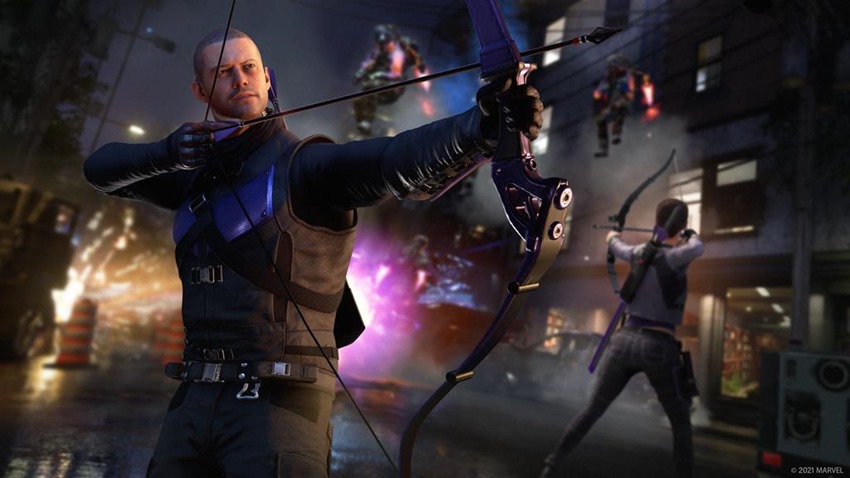 Can you really say that your Avengers team is complete if it doesn't have a certain marksman who happens to be very skilled at shooting sharp sticks at people? Technically Marvel's Avengers already has such a character in the form of best Hawkeye Kate Bishop, who was added to the game last year as free DLC.
The original archer, Clint Barton AKA Other Hawkeye, is still being added to the game and for the tens of fans still playing Avengers, they won't have long to wait. Alongside the promised next-gen enhancements for Xbox Series X and PS5, Barton will drop in Marvel's Avengers on March 18.
Hawkeye's mission ushers in the new Future Imperfect operation and involves the Kree getting up to shenanigans with time travel, eventually leading to the rise of the Hulk's evil alter-ego The Maestro. Developer Crystal Dynamics said this story is inspired by both the Old Man Hawkeye and My Life as a Weapon comic book series. Plus Pizza dog is apparently in the DLC! That's the one thing that has me genuinely excited. Reminder, you all really need to go read Matt Fraction and David Aja's Hawkeye series.
So how does Clint handle in battle compared to Kate?
Well just like his protégé, he has access to both a bow for long-range offense and a sword from back when he was Ronin, that can cleave through enemies who get too close to him. Hawkeye Originale has 10 unique arrows to choose from, can focus on a single enemy to increase his damage output, and can shoot an AI-guided arrow that seeks out multiple enemies during combat as part of his Ultimate attack. As for what's in his quiver, players will be able to select between traversal, boomerang, implosion, tripwire, rocket, pulsar, nightstorm, and recovery arrows.
As for the next-gen upgrades, Crystal Dynamics promised enhanced visuals, higher frame rates, and faster load times, with the update being free to all players on March 18. It definitely sounds good, but likely won't be enough to turn Marvel's Avengers around as the game is just fundamentally unfun due to its live service structure.
Thanks to its habit of swarming a player with enemies who have a 200% accuracy rate for landing cheap shots and seldom target your teammates, every golden chance to feel like one of Earth's mightiest mortals is often wasted when a single trash mob interrupts your setup to unleash a few moves in your power fantasy. Until Crystal Dynamics can fix that part of its game, it's still going to feel a bit AIM-less.
Last Updated: February 17, 2021