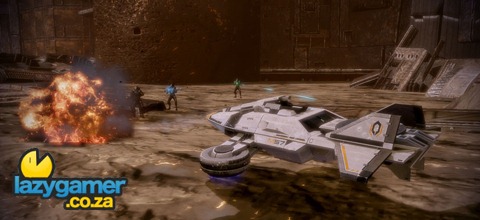 BioWare released their free new vehicle DLC for Mass Effect 2, it's another whopping 473MB download and is available through their Cerberus Network. Here's the word from the game's official web site: "Also coming on March 23rd is the Firewalker Pack. Free to all Cerberus Network members, the Firewalker Pack contains 5 new missions featuring the Hammerhead heavy assault vehicle. Make sure you have registered for the Cerberus Network to receive this awesome expansion to Mass Effect 2!"
They also released an Alternate Appearance Pack that will set you back 160 MS or BioWare points. The pack supplies new outfits for Thane, Subject Zero, and Garrus.
On a side note, both Mass Effect 2 and Dragon Age web sites feature a countdown. For what exactly? We haven't got a clue.
Last Updated: March 24, 2010