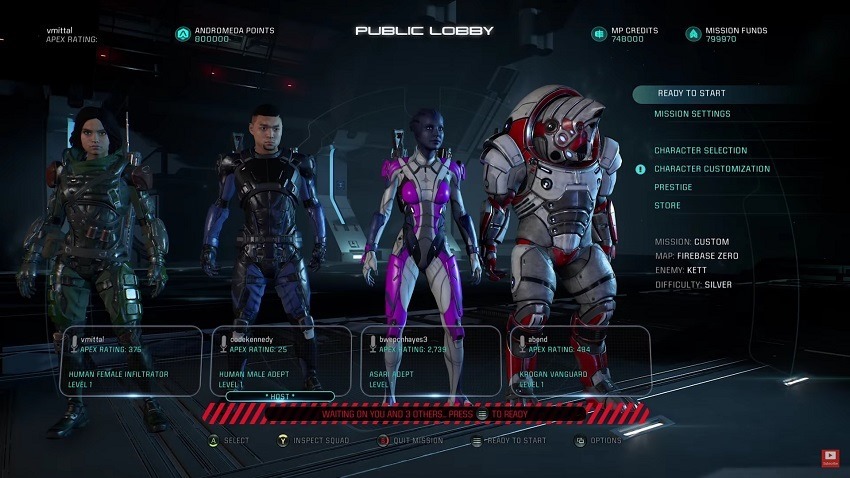 While everyone was arguing over the overblown mess that was Mass Effect 3's ending (or, endings I guess), smarter people were instead getting lost in the game's brilliant multiplayer. The wave-based co-operative mode allowed you and three other friends to party up and use the game's weapons and powers against increasingly stronger foes – in a formulaic manner that somehow punched above its weight. Andromeda's version then doesn't look too different, which isn't a bad thing at all.
A new entry in to the series of gameplay videos for the RPG has given us our first look at the multiplayer component to Andromeda, which will be sprawled across five maps. Players will again party up with another three humans, with each getting the option to customise their character from 24 different bodies of varying races. Players will also have access to a variety of weapons, with the 40 gun-strong locker bouncing between type, origin and situational awareness.
Players will also have access to specific boost, which will temporarily allow them to do more damage, produce different elemental outputs with weapons and all that jazz. The maps (or at least, the one in the footage) seem suitably claustrophobic, forcing the team to shift position regularly as newer, more perceptive enemies enter the battlefield. The trailer would have you believe that a well-balanced team is more effective, but we all know how that shapes out in the real world.
Players will be able to change their loadouts according to the play style that suits them best, in line with the class fluid nature of the single-player component too. Your role is determined by what you equip, which gives you some flexibility between games. Mass Effect 3's multiplayer was just a neat little distraction that often resulted in hilarious nail-biting games, so I wouldn't expect much more than that From Andromeda (in case you're thinking this is a multiplayer mode to take extremely seriously).
Mass Effect Andromeda is out on March 21st.
Last Updated: March 15, 2017