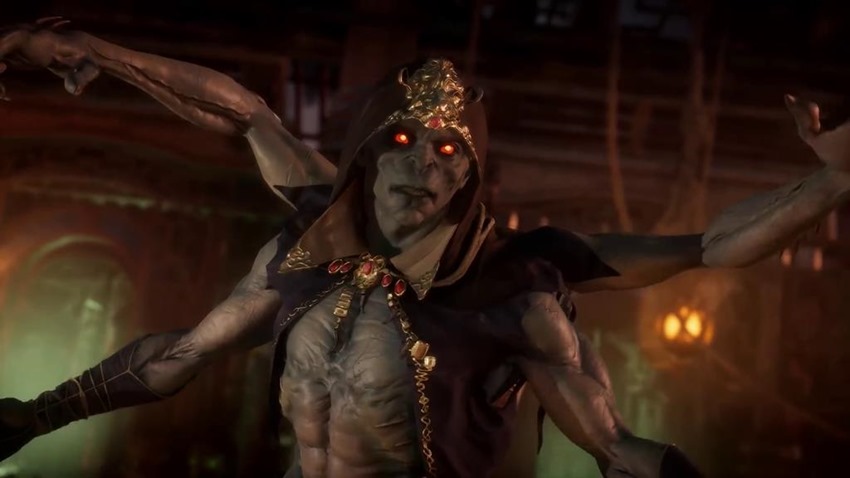 MORTAL KOMBAAAAAAAAAAT! So far, NetherRealm's latest hack 'n nut-punch sequel feels like a good ol' fashioned nostalgia ride. Shang Tsung wants your soul(and for you to pre-order to unlock Shao Kahn), Johnny Cage is ready to Alt-F4 your reproductive abilities and Scorpion is still your boy when it comes to the most well-rounded character available.
That's not to say that Mortal Kombat 11 doesn't have a few new fresh faces! Last week saw the rise of a new Elder God in the form of Cetrion, who wields the power of Mother Nature and can unleash titanic destruction all over your face. This week? Mortal Kombat 11 is scaling down, with a character who looks like the bastard child of Gollum and Goro. Say hello, to the Kollector:
A new fighter joining the Mortal Kombat franchise, The Kollector was born into poverty and seized his collections duty with a zeal that impressed Shao Kahn, becoming one of the Emperor's most feared associates. As more of a corrupt, mafia enforcer than a government official, The Kollector stole riches from Outworld's people, rewarding himself with wealth and status in turn, but when Shao Kahn died, Kotal Kahn vowed to weed out the former regime's corruption.

After years in hiding, living off his ill-gotten gains, The Kollector was captured and now faces execution, determined to destroy anyone in his path.
Is…is Baraka going to be okay without his face? Or internal organs? At first glance, the Kollector seems like a different breed of Shokan when compared to previous fighters such as Goro or Sheeva. Brute strength clearly isn't his forte, with this fella favouring quick counter attacks that can rip into foes with glee if the timing is perfect. In addition to that, his backpack looks like a treasure trove of handy items that should even the odds in any situation.
He's a slimy, horrid and thoroughly wretched little runt who clearly has a massive chip on his shoulder and will never be loved. I feel a certain kinship with this guy. Mortal Kombat 11 is finally out in a few weeks, for PC, Xbox One, PlayStation 4 and believe it or not, the Nintendo Switch.
Last Updated: April 8, 2019