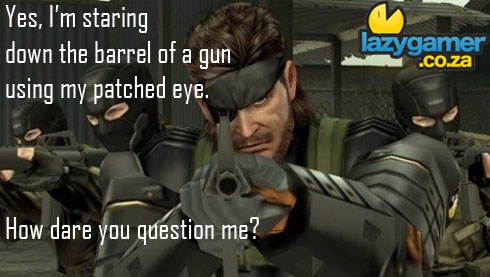 Metal Gear Solid : Peace Walker, the next "true" game in the franchise is coming exclusively to the PSP. This has been met with ire from many fans of the series who don't own Sony's handheld gaming system.
Seems Kojima has some mystical feature in his magic hat that'll convince people to buy PSPs. What might that be?
"I'm putting everything I want to do on a portable console into this game," Kojima  said to Famitsu. "I haven't announced this yet, but there's another feature in here that will surprise people, to the point where they'll want to go out and buy a PSP right now!"
Kojima went on to discussed other Peace Walker tidbits like interactive 2D cutscenes; "For example," Yoji Shinkawa, Art Director for the game claims, "if you zoom in on the scene where you first meet Paz, you can see the uniform she has on under her coat, and then what's under that."
The game will apparently also have voice interactivity on PSPs that feature a microphone.
Ok Kojima…colour me intrigued.
Source : 1up
Last Updated: October 14, 2009