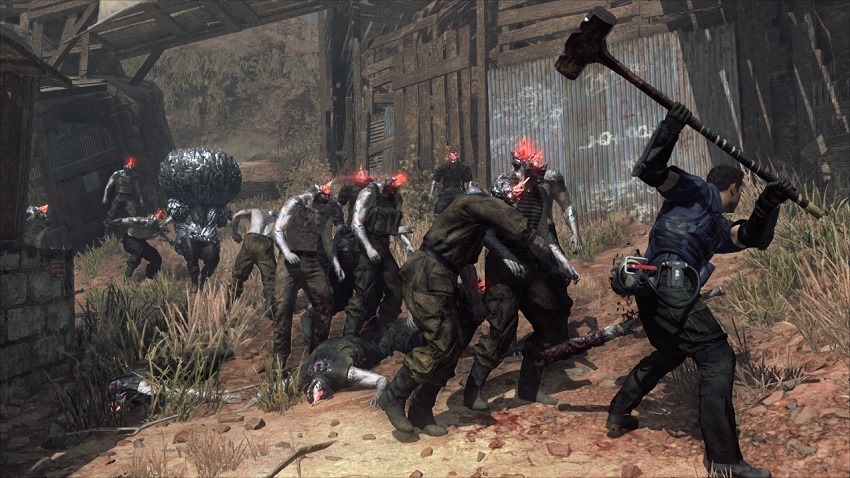 I get that you might not want to hear about what Konami is doing with the Metal Gear franchise now that Hideo Kojima is off making games about Norman Reedus and babies (that's Death Stranding right?), but hear me out. At E3 earlier this year I actually kind of enjoyed what Metal Gear Survive had to offer. And now with a new look at the game's campaign, doubly so. The Metal Gear spin-off is transporting you to a weird alternate dimension to shoot strange zombies, and it looks like fun to say the least.
The single-player campaign exists aside the game's core co-operative focus, but gives you missions to pursue in the same way Metal Gear Solid V did. There is, however, a much bigger emphasis on survival. You'll need to hunt animals for food, gather materials to make gear to survive wild toxic storms and upgrade weapons, and survive the onslaught of vicious creatures beset on you in this strange land. It's all very much ripping the assets from Metal Gear Solid V and using them in a new setting, but there's a lot of new mechanical work at play here too.
Survive retains the mantra of allowing you to go for stealth or action, and even includes new actions that make more sense in a space surrounded by creatures sensitive to noise. It's like an additional layer on top of what was already there, and as such looks far more compelling than you might have assumed from the outset. There's a lot more about the persistent operations base, the combination of co-op and more in the overview below.
Next month, Survive will also get its own open beta for you to give a go before the game launches in February. It's pretty long too, so hopefully there's a good chunk of content to chew through between January 18th and 21st. It's only on PS4 and Xbox One, despite the game coming to PC too when it launches.
Last Updated: December 14, 2017