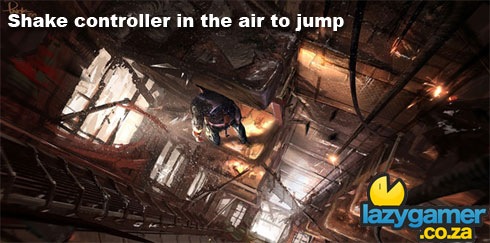 If you thought the imminent arrival of the PS3 Motion Controller/Gem/Sphere/Silly Dildo would usher in a world where you got to be Nathan Drake I'm afraid you're going to be upset. If you're the more logical gamer though, and neither want or need newfangled means to appreciate your games you'll be delighted to know that – despite gesture based control being all the rage these days, Naughty Dog won't be incorporating motion control to Uncharted any time soon.
"We really don't have any interest in using the motion control to do a third-person action game," says Naughty Dog boss Evan Wells.
They're not completely averse to the thought of motion control though, as he continued :
"If we were going to make a motion controller game, we'd want to tackle it from the bottom up and make sure that we were designing the game around the motion control, the way the best Wii games are designed."
"I'm not a Wii hater at all, in fact, it's probably one of my most played consoles in the house. I have a 3-year-old son which might account for some of that, but Wii Sports and Wii Sports Resort are some of the best experiences of this generation, honestly …  I think the PlayStation audience is totally for it. In fact, I bet you there are lot of closet Wii owners in the PlayStation community."
I'm pretty glad. I'm kind of hoping that motion control is a silly fad that will fade away – and soon. The first Uncharted game had Sixaxis controls for balancing and grenade throwing, and to be honest, I think the sequel is better off with out. Pointless motion control is pointless.
The last thing I want to do when I drag my tired ass home from work is to actually have to move. Give me a regular controller and a stiff drink, thanks.
Source : G4TV
Last Updated: January 7, 2010