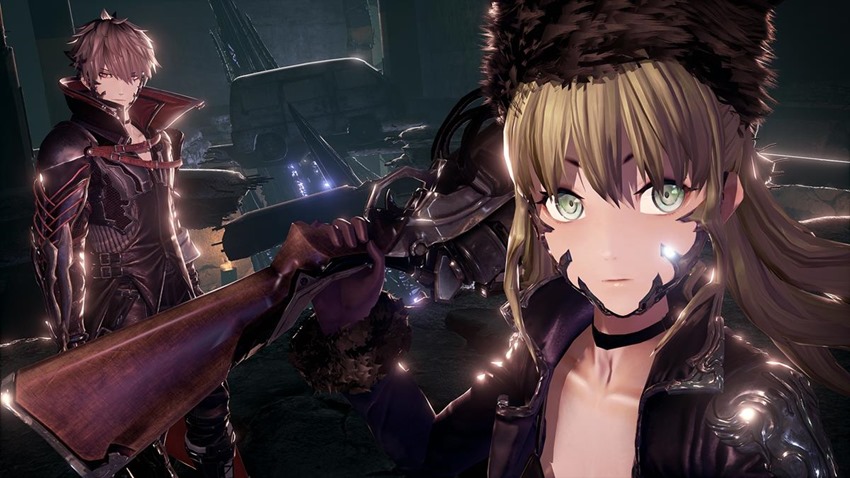 Bandai Namco has found its necks game. Giggle. Called Code Vein, the Japanese publisher got the ball rolling on the project with a short teaser and a few more details in Famitsu magazine this week. Promising vampiric action minus the bare-chested shininess, Code Vein drops players into a world devastated by monsters and disease as humanity has but one last stronghold to eke out an existence in.
Fortunately, those Revenant fellas are ready to lend a memory or two to protect the species, right? Here's the official synopsis for Code Vein, pasted below:
In the not too distant future, a mysterious disaster has brought collapse to the world, as we know it. Towering skyscrapers, once symbols of prosperity, are now lifeless graves of humanity's past pierced by the Thorns of Judgment. At the center of the destruction lies a hidden society of Revenants called Vein. This final stronghold is where the remaining few fight to survive, blessed with Gifts of power in exchange for their memories and a thirst for blood. Give into the bloodlust fully and risk becoming one of the Lost, fiendish ghouls devoid of any remaining humanity.
As a newly christened Revenant, players will get the usual abilities: Increased strength, speed and durability. Also toys. Deadly toys, lots of them in fact as they get a chance to wield them right into the stupid face of any Ghoul that challenges them. "Players can change their form to increase their strength, weaken enemies, and utilize new weapon abilities with overpowered attacks," Bandai Namco said in a press release.
Utilizing the vast array of weaponry along with each character's Gift, players can adapt and strategize to a variety of battle conditions that suit their play styles.
Sounds bloody cool actually. While Code Vein won't boast a graphical style that looks anywhere near as cool as that gorgeous teaser trailer, it is looking pretty decent so far. Here's plenty of new screens to gawk at:
I…quite dig the look actually. Its got a cel-shaded anime tone to it, but it looks nice and crisp. Hopefully the actual execution of those visuals matches the gameplay then, because Japan happens to be buttered up and on a roll with their latest releases.
Last Updated: April 20, 2017