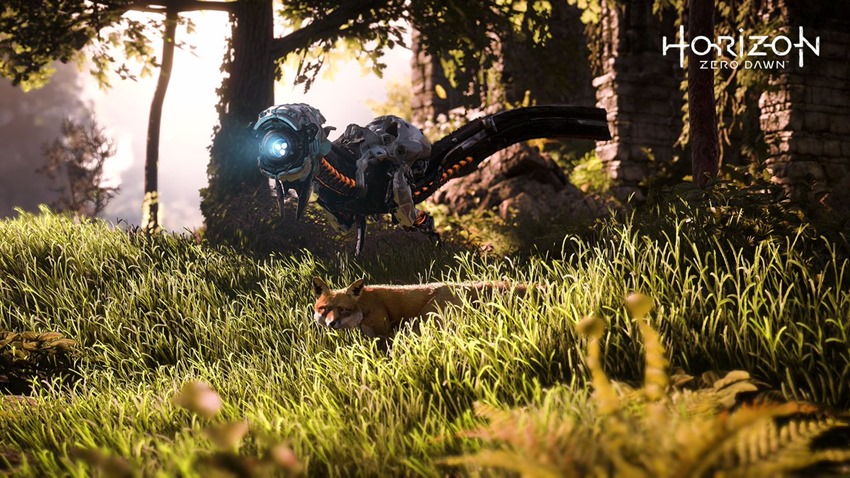 Like many of you, I'm terribly excited for Horizon: Zero Dawn. Guerrilla Games' latest looks to be a perfect showcase for not just the PlayStation 4, but the newer, more powerful Pro model too. It tells a tale of a future where technology has brought about apocalypse – and nature's taken over. In it, you'll play as Aloy a skilled hunter, capable of taking down the mechanised menace that roams the lush open world. Yes, you'll be fighting robot dinosaurs, and I can't think of a single thing on this planet that couldn't be improved with the addition of robot dinosaurs.
Here's the official set of key features that marketing wants you know:
A Lush Post-Apocalyptic World – How have machines dominated this world, and what is their purpose? What happened to the civilization here before? Scour every corner of a realm filled with ancient relics and mysterious buildings in order to uncover your past and unearth the many secrets of a forgotten land.
Nature and Machines Collide – Horizon Zero Dawn juxtaposes two contrasting elements, taking a vibrant world rich with beautiful nature and filling it with awe-inspiring highly advanced technology. This marriage creates a dynamic combination for both exploration and gameplay.
Defy Overwhelming Odds – The foundation of combat in Horizon Zero Dawn is built upon the speed and cunning of Aloy versus the raw strength and size of the machines. In order to overcome a much larger and technologically superior enemy, Aloy must use every ounce of her knowledge, intelligence, and agility to survive each encounter.
Cutting Edge Open World Tech: Stunningly detailed forests, imposing mountains, and atmospheric ruins of a bygone civilization meld together in a landscape that is alive with changing weather systems and a full day/night cycle.
I hope that Guerrilla has managed to make a dynamic open world that genuinely feels alive – because after the deluge of them, open world games in general are becoming a little boring. While it may or may not be boring, it's definitely beautiful, as these new screenshots show.
Last Updated: February 7, 2017