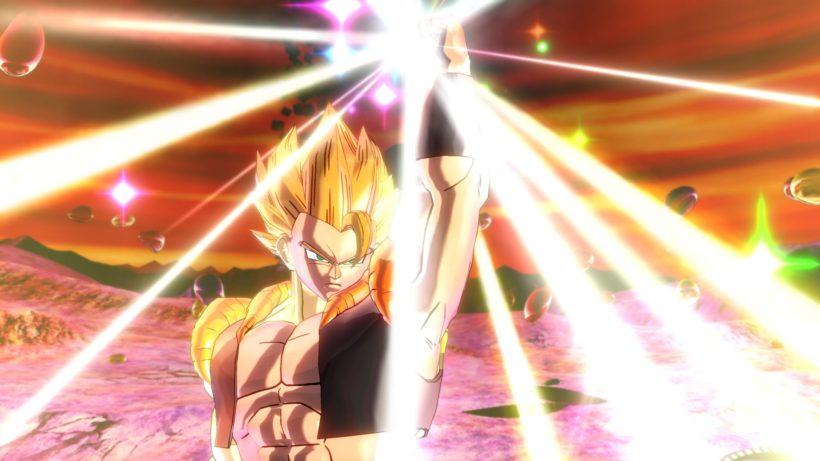 It's a damn good time to be a fan of Dragon Ball. A new series is running right now, the titular Dragon Ball Super, more films are probably on the way and the video game side of the franchise is pumping out some solid titles right now. Dragon Ball XenoVerse 2 launches on October 28, as time needs to be fixed again. With punching. And shouting. And dramatic showdowns. AWWW YIIIIISSSS.
Also, it's looking downright gorgeous so far. Here's a brand new gallery of screenshots, that clearly has over 9000 colours per pixel. WHAT? NINE THOUSAND? Cool thing gleaned from the screens: Looks like we'll have at least one level set during the events of the original video animation Dragon Ball Z: Fusion Reborn.
That film featured a fantastic fight and the fusion warrior Gogeta, one of the strongest characters in all of Dragon Ball, going toe to toe with a super demon from Hell. Did I say Hell? I meant HIFL. Yes, I certainly didn't breach any standards and practices codes when I confused the Home For Infinite Losers with some other terrible domain where sinners are sent to suffer for all of eternity as they pay for their sins. No sir, nope!
And a new trailer, straight out of Japan:
Last, but certainly not least, is news of the collector's edition that will be available in European territories. Hey, that includes us! The Dragon Ball XenoVerse 2 collector's edition includes the season pass, a 34cm tall Goku Super Saiyan figure straight out of the Frieza saga pose department from Super Master Stars, a Time Patroller's Guide and a special box.
The season pass includes access to four DLC packs, additional playable characters, episodes, missions, levels, abilities, costumes and accessories. And also access to Future Trunks from Dragon Ball Super, a tad bit early. Pre-orders apparently include access to Black Goku, the current antagonist of Dragon Ball Super. WHAT? NINE THOUSAND?
Last Updated: July 7, 2016