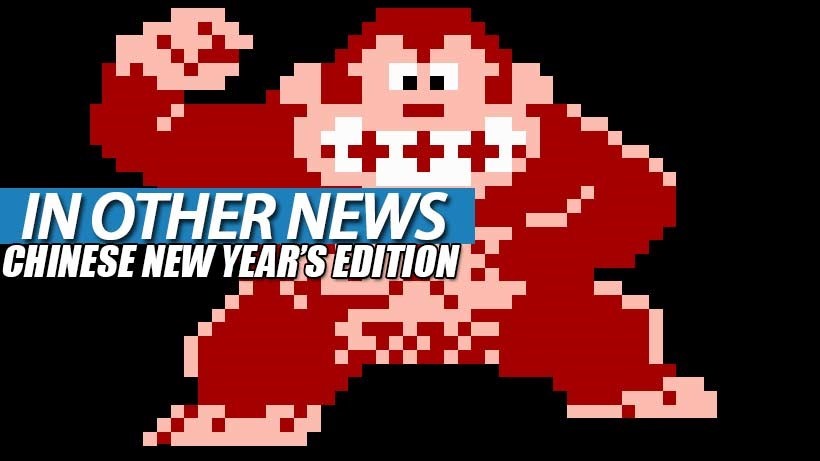 Happy new year! Relax, you haven't been so drunk, that you've managed to upset the very laws of time and space in a manner that would make the head of the Doctor spin around in his TARDIS. Sure, the western new year may have already started, but today marks the beginning of the much cooler, lunar Chinese new year that we'll all eventually adopt when our new eastern lords and masters finally purchase the continent and force us all to make Apple products.
This year, we say goodbye to the year of the Goat Simulator, and hello to the year of the monkey! Some of the best monkeys came from China, including the king of all of them, Son Goku. According to my ancient historical texts, he's the mythical figure who helped free the the universe from the tyranny of Frieza and defeated Majin Buu. I may have the wrong Son Goku here on this scroll…
In Other News: Apple doesn't want to get into a bind with Isaac, prepare to grief some balls in Halo 5, Quantum Break certainly has changed over the years and a whole lot of trailers.
Here's the news that we didn't post today, because a bunch of guys playing football kept on ruining my Superbowl marathon of adverts and move trailers.
News
Apple rejects The Binding of Isaac App Store submission
N++ is coming to Steam
Grifball, Fiesta and Assault coming to Halo 5 this month
Dead by Daylight is an asymmetrical slasher horror
Final Fantasy Tactics director's Unsung Story placed on indefinite hold
Trackmania Turbo to release in March
Quantum Break sure has changed over the last four years
Tekken's Harada slams Korean ratings board over leak
Stuff
Happy Birthday, Mewtwo, you abomination
Metal Gear Solid: Peace Walker – Portable perfection
Damn, this anime gun model is amazing
Yakuza Kiwami is the next best thing to a Shenmue remake
Videos
What's on at The Movies
Monday Box Office Report – The Force Awakens strikes back!
This new trailer for GODS OF EGYPT has become stronger!
Olivia Munn discusses her character Psylocke in X-MEN: APOCALYPSE
Man is forbidden in this new trailer for THE JUNGLE BOOK!
They're coming back in this new trailer for INDEPENDENCE DAY: RESURGENCE!
Krang!!! It's the new trailer for TMNT: OUT OF THE SHADOWS!
Lets go to war in this new trailer for X-MEN: APOCALYPSE!
Choose the right side with this new trailer for CAPTAIN AMERICA: CIVIL WAR!
Matt Damon is the perfect weapon in this first trailer for JASON BOURNE!
Editor's note: Yes, we're aware that Donkey Kong isn't a monkey. And that a donkey can't be an ape. Shut up already, we're still somewhat of a gaming website.
Last Updated: February 8, 2016