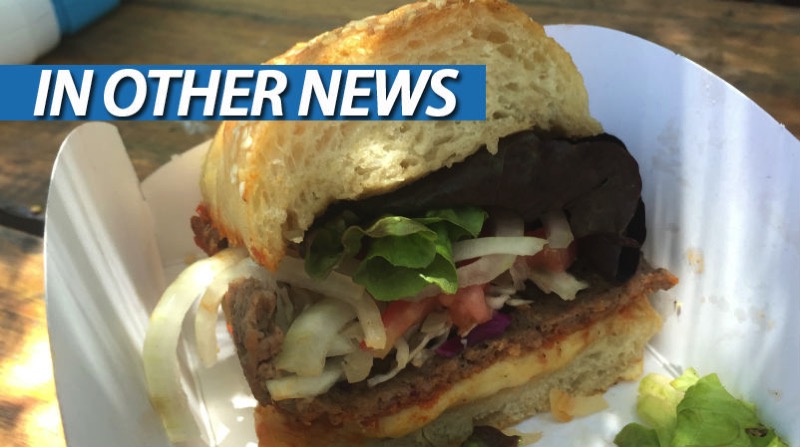 I went to a phone launch today, and I was a bit worried if they would feed us nice food. I shouldn't have been – they brought in a food truck. Well, a food bus, actually – the Balkan Burger Bus. It was so delicious. The folded patty meant that all those fresh veggies didn't just drip and juice everywhere, keeping the freshness in instead. With a nuanced cheese that is actually a mixture of Kashkaval and Mozzarella, as well as a mildly spicy and incredibly flavorful sauce, this burger was fresh, exotic and definitely delicious. If you see them at an event and get a chance to try it, I recommend them – although apparently the hot version isn't as tasty as the mild one.
In Other News: Armored knights carry machine guns in Battlefield, League of Legends prize pool is nothing to lol at and PSVR is a VampiRe that doesn't deal well with mirrors.
Here's the news we didn't post today because we were too busy riding the Rand like a fireman's pole.
News
Sony says bright light and shiny surfaces will cause problems for PSVR
Earth's Dawn looks like a futuristic Odin Sphere
League of Legends World Championship prize pool now over $4 million
World of Final Fantasy is looking slick on Vita
ReCore now has a playable demo on the Windows Store
Battlefield 1 single-player trailer has armoured knights carrying machine guns
AI War 2 announced, will be 3D and support mods
Gears of War 4 update increases credits earned in multiplayer, lowers cost of Elite Gear Pack
Stuff
Developer error lets Elite Dangerous players reach the top of the galaxy
What does Suda 51 actually do, anyway?
Mafia III is seriously glitchy
Videos
Call of Duty: Infinite Warfare | Multiplayer Beta Trailer | PS4
PlayStation VR | Games for the Future of Play
WWE 2K17 Launch Trailer
What's on at The Movies
Could Ghost Rider get his own AGENTS OF S.H.I.E.L.D. spinoff series?
Nicolas Cage is on a mission from God in this trailer for ARMY OF ONE
It's pure carmageddon in the trailer for DEATH RACE 2050
STRANGER THINGS' Noah Schnapps talks about possible changes in season 2
Last Updated: October 11, 2016