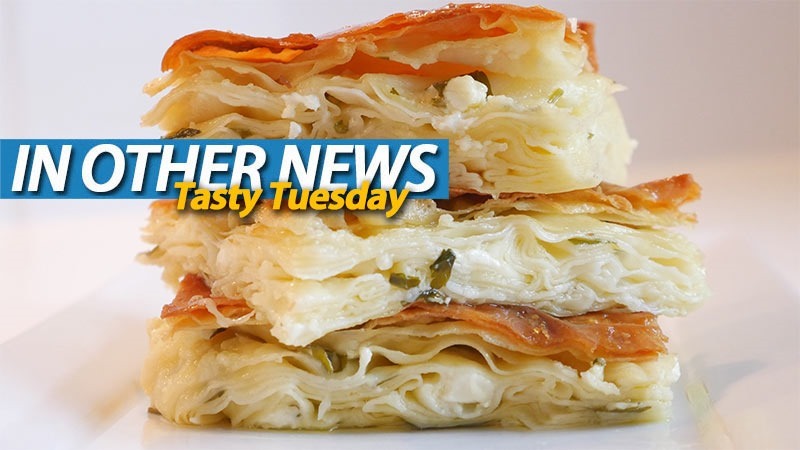 I don't know if anyone's said this recently, but it's pretty frikkin cold. And when it's cold, I want to stuff my face full of…well, just about any food. Especially though, I like something hearty and delicious; something comforting. Here's something favoured by the Turks. Yes, it's generally a vegetarian option, but no, that doesn't mean its rubbish.
Called Su Boregi (only with more punctuation marks), it's layers of dough softened by cooking it in milk and eggs, and then stuffed with spinach and cheese – a bit like a union between a lasagne and a Spanakopita. Yum!
In Other News: 14 minutes of Frank West at his best, Hawken console release confirmed, Just Dance is coming to Nintendo's next console  and Reedus hates Konami too.
Here's the news we didn't post because we were too busy climbing in to bed.
News
Watch 14 minutes of Dead Rising 4 gameplay
Existing Skyrim mods will be (almost) fully compatible with the Special Edition
Xbox One S doesn't have a Kinect port
Supergiant's Pyre still looks gorgeous in E3 trailer
Console release window confirmed for Hawken
Just Dance 2017 confirmed for Nintendo NX
Serious Sam devs turned down 'a shitton of money' from Facebook and Oculus
Stuff
Spec Analysis: Xbox Project Scorpio
Overwatch reborn as anime style credits
Norman Reedus fires shots at Konami
Overwatch PC performance graphics guide
Videos
What's on at The Movies
This trailer for coming-of-age drama KICKS is very far from outer space
Watch the first trailer for INDEPENDENTS' DAY… No, that's not a typo!
Why so much of ASSASSIN'S CREED is set in modern times. Plus, check out new footage revealed at E3!
Don't talk to anybody about this new trailer for HBO series THE NIGHT OF
Ron Howard set to direct film adaptation of SEVENEVES
Last Updated: June 14, 2016