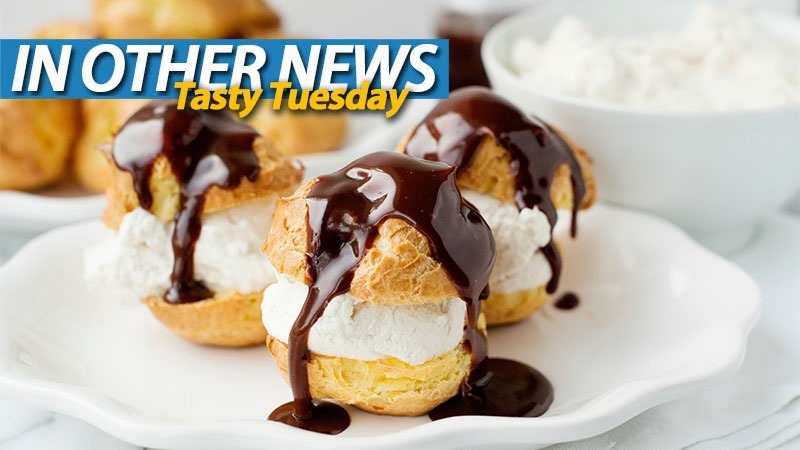 There's nothing quite like French pastry – and no French pastry quite like pâte à choux, or choux pastry. It's the sort that's used to make eclairs, profiteroles, crullers, beignets, St. Honoré cake, quenelles, gougères, chouquettes and craquelins and all those other inconceivably delicious French pastries. And of course you get the croquembouche, a lumbering tower of cream or custard-filled profiteroles so favoured at weddings and other big celebrations. IN MY FACE, PROFITEROLE.
In Other News: Doom creator teasing something new, Dark Souls has gone dark, Goodbye Gamefront and a closer look at Gears of War 4
Here's the news we didn't post today because we were too busy shaving and dressing nicely because of all the women in the office.
News
Doom and Quake co-creator teasing new FPS project
There's some messed-up stuff in this Let it Die teaser
The Division: no game changes during latest maintenance
It only took 46 hours to beat this insane Super Mario Maker level
Dark Souls 1 multiplayer dies mysteriously
Star Fox cartoon launching later this week
Danganronpa 2: Goodbye Despair is out now
Stuff
The anime of winter 2016 in review
Digital Foundry: Hands-on with Gears of War 4's multiplayer beta
RIP GameFront, 1999-2016
Destiny's April update welcomes back lapsed players, for now
Videos
What's on at The Movies
This trailer for NO MEN BEYOND THIS POINT won't take away my dignity
He's gonna rise again in this trailer for THE BANKSY JOB
JURASSIC WORLD sequel officially finds its "impossible" director
BATMAN V SUPERMAN's original cut was over 4 hours long!
Neil Gaiman to adapt his and Terry Pratchett's GOOD OMENS for TV
Last Updated: April 19, 2016