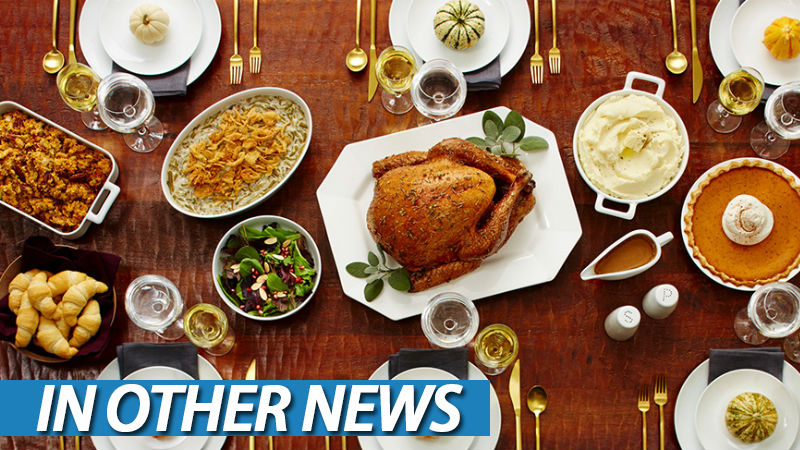 Tomorrow is Thanksgiving over in the US of A. You know, the day we eat turkey and stuffing, gather with family and talk about all the things we're thankful for before going out the next day to punch an old woman in the throat for that good deal on a new TV. So, here's a twist – what are you thankful for from this year? 2016 was a real sucker punch of a year, but some awesome things happened, too. Right?
In Other News: LEGO is coming for your Nintendo Switch, Blizzard is keeping this perspective and we can always do more.
Here's the news we didn't post today because we were too busy avoiding giving Al any more sick burns.
News
PSA: Save-Breaking Bug Found In Pokémon Sun & Moon May Be Related To Save Editing Tool
Titanfall 2's first free DLC drops Nov. 30
Lego City Undercover is one of the first confirmed Switch games
Mass Effect: Andromeda Deluxe Editions and Preorder Bonuses Detailed
Riot looks to finalize eSports streaming deal with MLB – report
Stuff
Majora's Mask Fan Film Created By VFX Studio
A Boba Fett Star Wars Movie Was Very Close to Being Announced – Report
Overwatch was Blizzard's first first-person action game, but this job ad suggests it won't be the last
The game industry could be doing more for charity, says Democracy 3 dev
Vidja
The War Within – Highlights
WATCH DOGS 2 (Honest Game Trailers)
7 Video Games With Insane Hidden Details
The Movies
Pray to SILENCE in this first trailer for Martin Scorsese's long-awaited passion project!
Video review: True Memoirs of an International Assassin
Midweek Movie Mouth-off: what movie did you just not "get"?
The future of STAR WARS movies may lie in anthologies, not episodes
Last Updated: November 23, 2016