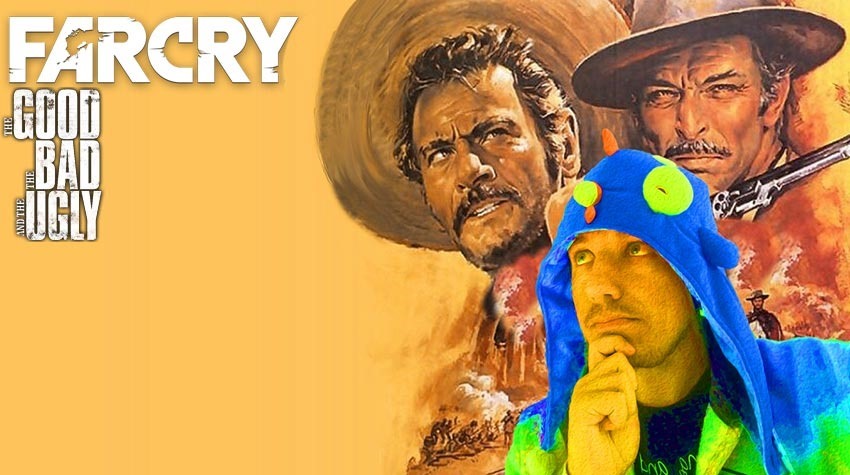 It's inevitable that Ubisoft will pump out another Far Cry game. The series is still solid, they sell well and they can cover pretty much any theme under the sun. We've had regular Far Cry experiences set amidst tropical islands, African Savannahs (SKIET DIE BLIKSEM!) and the high altitude of the far East. The best Far Cry games however, are the ones that take familiar ideas and go wild with them. Trust me, you'll also want a Blood Dragon tattoo spread across your back after you've played that spin-off.
So what's on the menu for Far Cry 5 after the last spin-off took the series to more prehistoric times? According to the latest rumours, a game that focuses on the good, the bad and the ugly of the franchise.Pardon me while I hum a familiar tune. WAAAWAAHHHWAWAAHAWAAH…WWAAAAHHHWAAAWAAHAHAWAAHHHAAAA…
Ahem. Anyway, get a load of this rumour. According to the Great Falls Tribune via VG247, a live-action trailer was recently shot near a church in the Montana Prairie. According to producer Jeff Guillot who was on location, the shoot was for an upcoming video game due to be released in September. A game whose production "stretched more than 5,000 miles from California to Montana" and happens to be "a sequel to an existing global franchise."
Normally, you'd have two options for such a description. Either Red Dead Redemption 2 or *shudder* a new Call of Juarez.The conspiracy theorists however, point to Guillot's work with Ubisoft in the past for promotional campaigns on Red Steel 2, Driver and Rabbids (Thanks Nerdbite!). Put two and two together, and you have Far Cry. The link between the shoot and the rumour comes from a 2015 poll wherein Ubisoft asked players if they'd be interested in "a game in the Spaghetti Western style set in the 19th century Americas" for Far Cry 5.
"Yes" I shouted, while slapping the plastic pop-gun next to my side at the time. Anyway, sounds largely plausible to me, but take it all with a massive pinch of salt until confirmed. As an avid western fan, I can't get enough of the genre so hells yeah I'm down for a Western Far Cry. Which we'll probably see more of next month at E3, a sentence you're going to read quite often in the build-up to the Wrestlemania of gaming shows.
We don't really buy it though. With Red Dead Redemption coming this year apparently, going up against that would be foolhardy. While we're certain there's a new Far Cry coming this year, we don't think it's quite going to be a western.
Last Updated: May 9, 2017