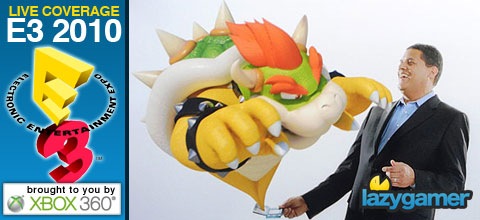 The biggest story out of E3 was the Nintendo 3DS and how it can actually emulate true 3D without glasses on a handheld system.
We should have a decent preview of the machine up in the next day or so but you are going to want to set aside some cash to pick one of these up when they are released and with the latest news of a December launch hitting the Internet it's about time to start saving.
Previously Nintendo America's president, Reggie Fils-Aime, has stated that they expected to get stock rolled out worldwide by the end of March 2011 but now it appears that we may see the 3DS in stores a lot sooner than that.
According to CVG's industry insiders we may be looking at a Christmas launch in the UK with severely limited stock with the marketing machine starting up as early as October.
There has been no indication on price yet and from what I saw we may be in for a reasonably hefty price tag to cater for the amount of tech that has been shoved into this machine.
I myself would be surprised if it comes in less than R2500 ($250) and at that price I still expect it to fly of shelves.
Source: CVG
Last Updated: June 23, 2010