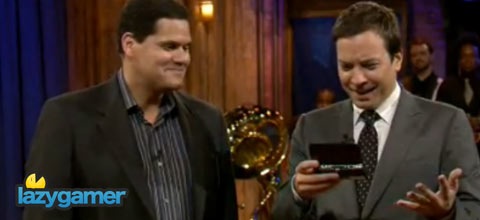 Hey you, wanna play with a shiny new Nintendo 3DS this Christmas? Well, you can't.
We saw the Nintendo 3DS strutting its stuff with very own eyes at E3 and I can tell you right now that there is nothing else out there that I am more excited for right now. The 3D is spectacular, it doesn't need glasses, the widescreen has crisp visuals and hey, did I already mention that the 3D is spectacular?
Well this week on Jimmy Fallon's Late Night talk show, Nintendo's Reggie Feezamay (yes, it's actually Fils-Aime) confirmed on the show to Jimmy that the 3DS will be launching in 2011. We already had a good idea that it wasn't coming this year, but now we know for sure.
The show then moves onto Jimmy Fallon staring in utter bewilderment at how the 3DS was pulling off its 3D graphics – which is exactly what we looked like when we tried it out ourselves.
I've posted the video up after the jump.
Last Updated: June 28, 2010