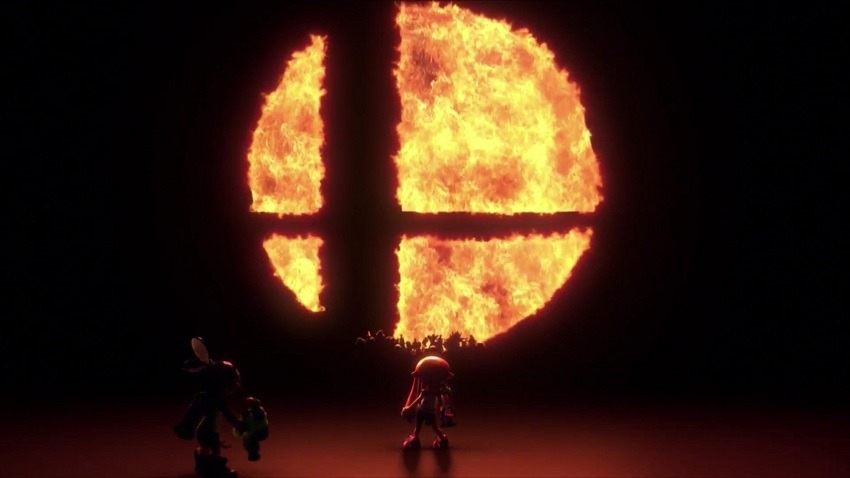 WHEW. I'm used to Nintendo Directs outside of E3 to be special but reserved. That was a memo Nintendo themselves turfed out of the window last night, with 30 minutes of extremely massive announcements for both the Nintendo Switch and 3DS. New games, release dates for almost every single one they've already revealed and a bunch of surprises rounded out a presentation that definitely confirmed this: The Switch has a stellar 2017, but 2018 is giving it a run for its money already.
Here's everything that happened during the Direct, which you can still watch in full above.
Super Smash Bros. finally revealed
Super Smash Bros. is a tentpole franchise for Nintendo, but it's one that is incredibly difficult to make. It's why the game has seen remasters instead of full-on sequels most of the time, but it's unclear just what is coming to the Switch. Revealed right at the end (and spawning a new meme), it's not clear yet if this version of Smash will be an iteration of Super Smash Bros. that appeared on the Wii U. All that we do know is that Splatoon's Inklings are joining, and that it's out this year.
Mario Tennis Aces launching June 22nd
During the last Direct earlier this year Nintendo revealed Mario Tennis Aces – a new spin on the sports genre that looks to combine neat party mode tennis with some familiar Mario power-up twists. It's delightfully colourful and looks frantic in action, and it's now set to launch just after E3. You can look for the lob on June 22nd, with Nintendo revealing more about the gameplay (there's even a new story mode peek, and looks at 4-player multiplayer) in the footage above.
Octopath Traveller launching July 13th
The Square Enix RPG that has already endeared so many hearts with its charming demo (which is still up to download) finally has a release date. You'll explore this new JRPG world from July 13th, with Nintendo revealing the release date alongside a new Collector's Edition that includes the usual OST, Map replica and more. Nintendo also detailed two new characters and touched on the Job System, which is integral to your progression. Octopath's soundtrack is wondrous too, so be on the lookout later this year.
Splatoon getting new single-player DLC, and 3.0 update
If Nintendo does one thing exceptionally right, it's post-launch support for Splatoon. The inky shooter has already received loads of free updates, and that's going to continue with a large burst of content in April. Version 3.0 will add over 100 pieces of new gear, new maps and higher ranks for online play. A new paid DLC package will also appease the single-player lovers out there. Octo-Expansion will feature a new campaign that puts you in control of Octoling Agent 8. Abandoned in a subway you'll fight to escape and uncover some nasty secrets along the way. It'll cost $20.
Dark Souls Remastered is bringing along a new Amiibo
It's not a big third-party launch on a Nintendo platform without a brand new Amiibo right? Praise the sun with Solaire of Astora in mini-Amiibo form, with the extremely limited run already up for pre-order overseas. It's he adorable.
Switch gets brand new indies, third parties and release dates
Aside from all the platform exclusive goodness, a whole lot of third-party games also got revealed for the Switch. Just look at this list:
Okami HD – Summer 2018
Sushi Striker: The Way of the Sushido – June 8th
Travis Strikes Again: No More Heroes – Sometime 2018
Captain Toad: Treasure Tracker – July 13th
Undertale – One day
Crash Bandicoot N.Sane Trilogy – July 10th
Little Nightmares Complete Edition – May 18th
South Park: The Fractured But Whole – April 24th
Hyrule Warriors: Definitive Edition – May 18th
But wait, the 3DS got love too
The Nintendo Switch is the hot-selling console right now, but the 3DS still has millions of players clamouring for more games. And Nintendo isn't forgetting that, with a handful of new game announcements. Including a whole redo of the first Luigi's Mansion!
WarioWare Gold – August 3rd
Dillion's Dead-Heat Breakers – May 24th
Bowser's Inside Story + Bowser Jr.'s Story – Sometime 2019
Detective Pikachu – March 13th
Luigi's Mansion – Sometime 2018
That's a whole lot of Nintendo power crammed into 30 minutes, and this small round-up doesn't do justice to some of the bigger announcements and their trailers. Seek them out, new Switch lovers. This year is looking mighty fine for you already.
Last Updated: March 9, 2018