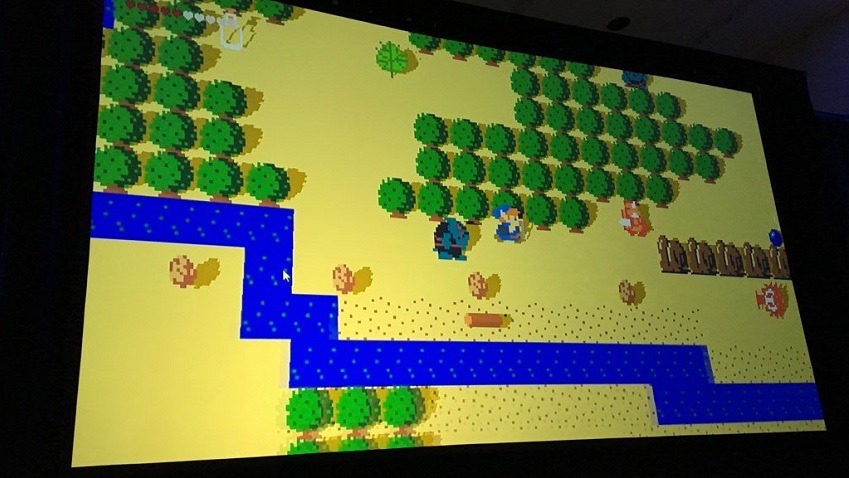 Game design is as much abut planning and it is about improvisation, and nothing says this better than the approach Nintendo took when creating The Legend of Zelda: Breath of the Wild. Giving a talk to a packed auditorium at the Game Developers Conference yesterday, Breath of the Wild director, Hidemaro Fujibayashi, revealed a first look at the entirely 2D version of the game he and his team used to design most of the 3D title's core mechanics.
The quickest way to bring these ideas to life, and present it to the team, a 2D prototype of #Zelda was created. pic.twitter.com/OJnE4yt8Oi

— Nintendo of America (@NintendoAmerica) 1 March 2017
Remade in a style similar to classic 8-bit Zelda titles, Fujibayashi explained that the approach allowed the team to tackle two problems at once. The first was testing new open-world mechanics in a space that the team felt familiar with, while also ensuring that their ideas were in line with a Zelda game to its core.
"I wanted to create a game where the user could truly experience freedom in this play field, and a sense of adventure again and again, as they freely navigate through it. When I started to think this way, the NES Zelda came to mind. Every time the screen scrolled, there was a new discovery to be made."
The entire 2D framework was used to help puzzles go from passive to active, which Fujibayashi explained as fundamental in Breath of the Wild's design. This meant adding new solutions to puzzles that would traditionally only have one, giving players a more open-ended approach to all of the game's challenges. Designing these in a 2D space allowed the team to focus primarily on item possibilities and core pillars of each puzzle, with the more finicky 3D elements being left for later.
It's a smart approach, and one I'd think many would be surprised to find in a lot of other studios. But I do have to wonder what Nintendo plans to do with this framework that looks like it could harbour a new classic Zelda title. Better yet, why not open it up to the players – Zelda Maker style.
Last Updated: March 15, 2017