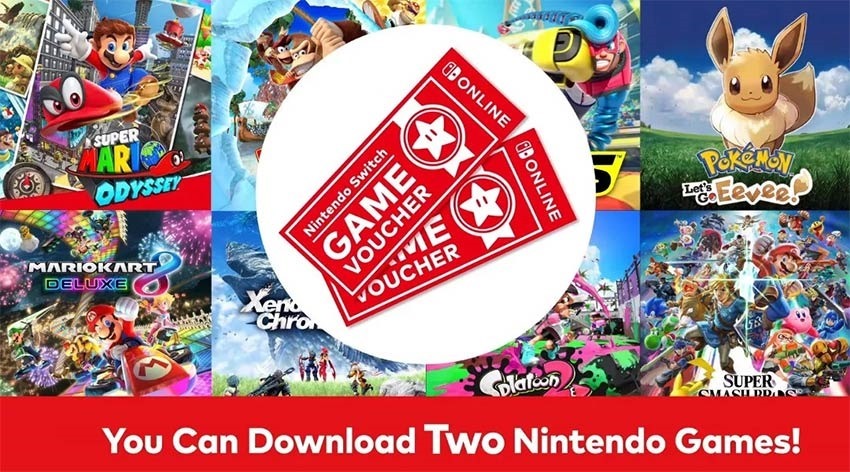 Yesterday, Nintendo had a Direct that was superficially focused on Super Mario Maker 2. That game looks great, with new ways to make courses, and an actual story mode that would make Karl Marx turn in his grave. While the direct was all about Mario and his construction abilities, Nintendo also revealed a new vouchering system that lets its online members get some games for a little cheaper.
Nintendo Switch owners who subscribe to the online service can now buy a pair of digital vouchers for $100, and use them to buy any two games from an increasing library of current, and upcoming Switch games. That effectively gives a $20 discount on some of the Switch's highest-profile games.
It's available in South Africa too, but that $100 translates to R1559. It does allow you to pick up games like Breath of the Wild and Super Smash Bros Ultimate which are usually R1080 each, so it's a fair saving on some of the system's best games. It also includes games that have yet to be released, like Super Mario Maker 2, Marvel Ultimate Alliance 3: The Black Order, Astral Chain and Fire Emblem Three houses, so if you're keen on getting at least two of those games, it's worth buying the vouchers.
The vouchers will only be available to buy until July 31 though, and must be used within a year of purchase. Curiously, that may actually fall foul of our own Consumer Protection Act, which stipulates that all pre-paid vouchers must remain valid for three years.
Buying the vouchers will also give you 780 Gold Points though, which means even more savings on games down the line. There are some games that fall under the R800 mark though, so using these vouchers to buy those seems a little silly. You can see the list of available games here.
Last Updated: May 16, 2019