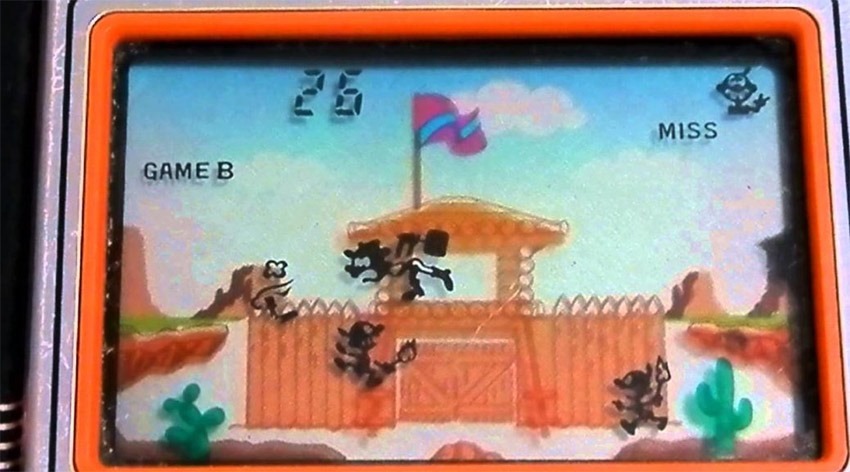 During the great big Smash Bros Ultimate direct, some people noticed that one of the characters – the dude from Nintendo's old Game & Watch games – exhibited a potentially offensive stereotypical portrayal of Native Americans.
The quick animation in one of his moves referenced an old Game & Watch game called Fire Attack from 1982, where players beat up angry Native Americans who were trying to attack a fort. The portrayal features the stereotypical loincloth, feathered headdress, and torch.
In a subsequent digital port of the game in the Game & Watch 4 collection, Nintendo had the foresight to remove this particular portrayal, as it was already deemed slightly offensive then. For some reason, it snuck into Smash Bros. Nintendo has now confirmed that they'll be removing it. In a statement via Source Gaming, the company says:
"Nintendo has been planning to distribute an update for Smash Bros. Ultimate that removes the feather from the silhouette of Mr. Game & Watch. The original game on which this depiction of the character is based was released more than three decades ago, and does not represent our company values today.

We sincerely apologize that this change was not noticed in our marketing material and are continuing to work to make Smash Bros. Ultimate an experience that is both welcoming and fun for everyone."
It's a curious case, because it seems that most of the brouhaha revolves others being offended on behalf of other people. Anecdotally, most Native Americans I've seen discuss the issue aren't perturbed by it – but that' doesn't mean it's not hurtful.
Please check and spread the below thread from ResetEra. Mr. Game & Watch's new forward smash in Smash Ultimate is a direct reference to a G&W game featuring racist depictions of Native Americans.

I'm Native, and this hurts. @NintendoAmerica Can you help?https://t.co/8JlXbBh1lf pic.twitter.com/NZCasWlVom

— ✨ gale (@rr_gale) November 3, 2018
That said, if some people found it offensive, and Nintendo's removing it, then I don't see any issue. It's such a minor thing that doesn't affect the game at all.
Last Updated: November 7, 2018