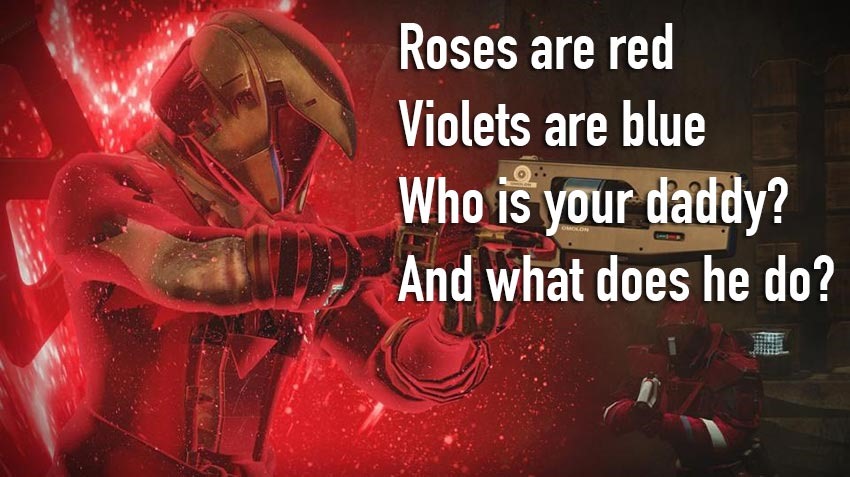 Oh Destiny, I want to love you and your space-shenanigans set against the backdrop of a never-ending battle against some vague foe who may or may not be a British band that debuted in the 2000s. But I'm saving myself for Destiny 2 right now, as even the promise of more regular events do little to entice me to stick around. One such event that fans were expecting to see again?
Crimson Days, a deathly duet of 2 on 2 Crucible action that happens to have a Valentine's Day theme to it. This year however the event won't be around as developer Bungie plots something else for their space opera. "Crimson Days will not be making a return this year," Bungie said in a new blog post.
We enjoyed adding some gunfire to your date night, but we have other plans. Instead, we're dedicating our efforts to delivering different things for you to play. We're super excited to tell you about it–but not so excited that we'll jump the gun.
Fair enough then for the masses still playing. Bungie says that the new update will come out during the "springtime", which in the US usually kicks off at the tailend of March. Hooboy, that's a wait and a half. "It's rarely our policy to issue guarantees about things that are not yet certified for download. Given the work that is being done behind the scenes, however, we feel like we can start to call the shot," Bungie said.
I think my biggest fear right now with Destiny, is that all of my progress will mean absolute squat in the big picture when Destiny 2 eventually arrives. Make no mistake, the hours I've spent playing Destiny and its expansions have been fantastic and I've no regrets at all. But there was a certain safety in the knowledge that all my actions were impacting on the next big chapter of the story that I was invested in.
With Rise of Iron essentially being the swansong for the first Destiny game however, I'm struggling to see any real reason to head back into the wildlands of the Cosmodrome and beyond. And I can't be the only person who feels that way.
Last Updated: January 20, 2017