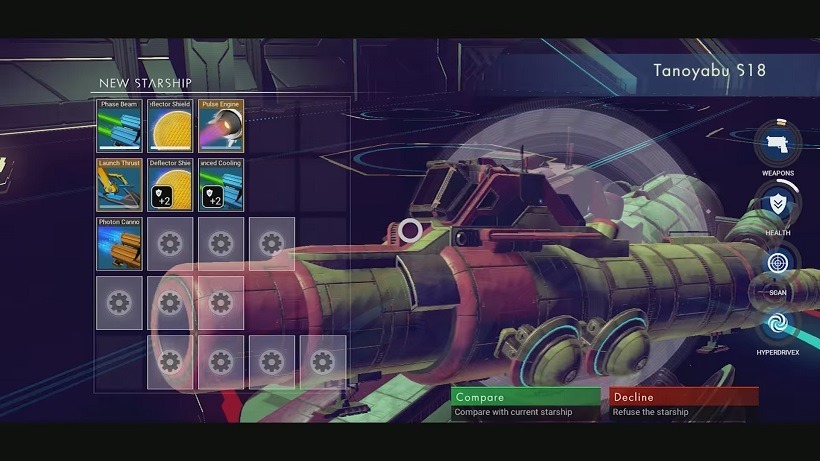 No Man's Sky is racing towards release (finally), and in a bid to somehow outdo the massive buzz around the title in the weeks leading up to that have given us a handful of bite-sized trailers. We've seen the space simulator's approach to Exploration and Combat already, but those are only some of the hooks aching to dig themselves into you when the game arrives. The other is Trade, which will have you looking at No Man's Sky's menus. A lot.
In fact, they're menus that might look similar if you've been giving a lot of your time to Bungie's shared world shooter Destiny. I personally think Bungie hit it out of the park with the UI design for Destiny, with sleek parallax powered overlays concisely displaying all the information you need at a glance. Turns out Hello Games loved them too, or this is just a massive coincidence.
There's nothing wrong with it either, especially if the menus help condense the massive amounts of information that No Man's Sky seems to be throwing at you when it comes to interplanetary trading. You'll land on one of the 18 quintillion planets out there, harvest some of its natural resources and hopefully find some alien life out there willing to buy it from you at a premium. That is if you're against going the whole pirate route and just shooting what you want, when you want, out of the sky.
Trade has always been a fascinating part of space simulators for me personally, so I'm interested to see just how deep No Man's Sky goes with it. It's a vast universe to explore with near infinite opportunities for exploration, so I do hope that there are more than a couple of surprises for avid explorers to dig up. It's out on August 9th for PS4 and PC.
Last Updated: July 25, 2016