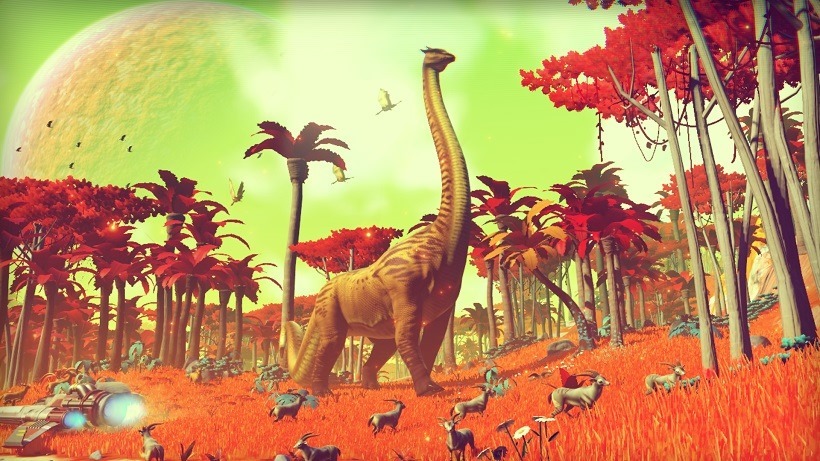 No Man's Sky is inches away from release now, which made a particularly surprising report from last week sound like a cruel joke. A Dutch company claimed that the procedurally generated space explorer was making use of a mathematical formula they owned to do it, continuing on to imply that Hello Games knew about the infringement. Hello Games, and by extension their lead programmer Sean Murray, chose to address this head on over the weekend.
In the most casual manner I might add. Taking a day to compose the response, Sean Murray sent out a simple tweet to notify concerned fans that the game didn't make use of any stolen formulas. He labelled it all as a "non-story", before wishing the best to superformula author Johan Gielis and promising to discuss maths with him in the near future. How sweet.
No Man's Sky doesn't actually use this "superformula" thing or infringe a patent. This is a non-story… everybody chill
(?_ _)?

— Sean Murray (@NoMansSky) 23 July 2016
I wish Johan Gielis, the author, all the best in future. We're going to meet and chat maths once the game is out
— Sean Murray (@NoMansSky) 23 July 2016
Of course the timing of it all seemed to good to be true, and if Hello Games really was making use of something that didn't belong to tem you would've expected it to come to light a lot sooner. Still, the evidence was mounting last week – what with Sean Murray mentioning Gielis by name just a year ago and the very company he works for making the claims of infringement. But for now it seems Hello Games is safe, and the launch of No Man's Sky isn't going to (hopefully) be flying into any asteroids before August 9th.
If you need a little refresher, Hello Games have been releasing short, bite-sized trailers for their latest game over the past few weeks. Check out the Exploration, Combat and Trade of No Man's Sky here, before jetting off on your own adventure on PS4 and PC.
Last Updated: July 25, 2016