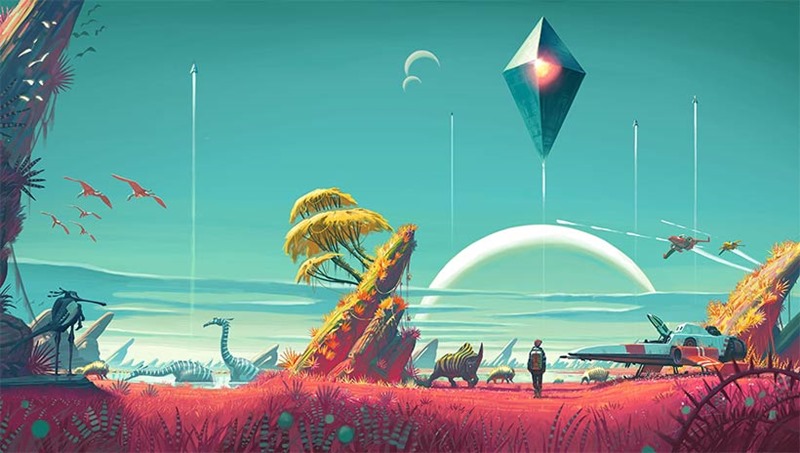 No Man's Sky, quite possibly one of this generation's most eagerly-anticipated games is coming in August, after a brief delay. It was meant to be out right now but a few development hitches and fights of the rights to use the name "Sky" have put a spanner in the works.
I think one of the reasons the game is so anticipated is because of how enigmatic it is. It's such a large, open experience that it's hard to describe, and that's led to a strange, almost mystic aura. Some still find it incredulous that the game and its procedurally generated universe can even exist.
It's also been a while since we've heard anything about the game, or how its development is going. According to Hello Game's Sean Murray, everything's going swimmingly.
In an update on the No Man's Sky blog, Murray said development on No Man's Sky is going "genuinely well."
"Every day, the game is getting better and better, and despite all the late nights (and early mornings) we're all working to get it finished and in your hands, it's amazing to see it all coming together.

You might already know this, but we had to delay the game from its original June release date. It's now August 9 in North America, and August 10 in Europe. We knew that people would be disappointed, and we've certainly heard a lot from some who decided to tell us all about that. But we've also heard some super nice words of support as we make the final push.

I've said it before, but No Man's Sky is the hardest thing I've ever worked on. It's even bigger than you can imagine. This is a type of game that hasn't been attempted before, by a smaller team than anyone would expect, under an intense amount of expectation. And despite all of that, development is genuinely going well. This is the hardest working, most talented team I've ever worked with, and I'm so proud of what we're doing. For all our sakes though, we get one shot to make this game and we can't mess it up.

So that's what we're doing right now, and every day I feel more sure it was the right decision. Thank you so much for your support and patience. The universe will be yours very soon."
I'm still not quite sure how I feel about No Man's Sky and its bold promise of a whole new universe to explore. I am, however, looking very forward to seeing if those promises are realised.
Last Updated: June 27, 2016