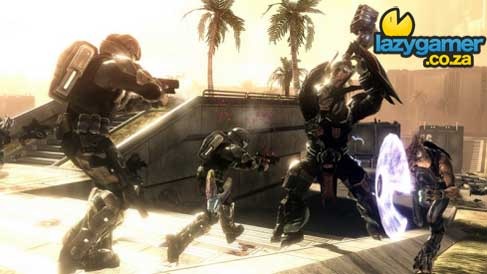 The PS3 may have destroyed the competition when it comes to hardware sales, but it's HD competition came out on top with regards to software.
Today you get a second opportunity to act surprised; Halo 3 : ODST has completely dominated retail software sales, outselling its closest competitor by over a million copies.
Halo 3: ODST sold a ridiculous 1,520,000 copies,placing it firmly at the top. Managing only 442,900 sales, Wii Sports Resort has to make do with second place.
It's nowhere near the ridiculously impressive 3.3 million that Halo 3 sold through in its debut month, but it's enough to make it the 6th fastest selling launch of all time. not too shabby for a short, overpriced expansion pack, eh?
Superhero games also proved to be popular last month, with both Marvel Ultimate Alliance 2 and Batman Arkham : Asylum moving over 200 000 copies each.
Interestingly despite the significant increase in install base, only two PS3 games made it to the top 10, and both of them are multiplatform; Madden 10 and Batman.
It's nice though to see the infinitely more respectful The Beatles : Rockband outselling Guitar Hero 5 – although that's not terribly surprising. It is the Beatles, afterall.
01. Halo 3: ODST (Xbox 360) – 1,520,000
02. Wii Sports Resort (Wii) – 442,900
03. Madden NFL 10 (Xbox 360) – 298,600
04. Mario & Luigi: Bowser's Inside Story (DS) – 258,100
05. The Beatles: Rock Band (Xbox 360) – 254,000
06. Madden NFL 10 (PS3) – 246,500
07. Marvel Ultimate Alliance 2 (Xbox 360) – 236,000
08. Batman: Arkham Asylum (PS3) – 212,500
09. Guitar Hero 5 (Xbox 360) – 210,800
10. The Beatles: Rock Band (Wii) – 208,600
Source : Examiner
Last Updated: October 20, 2009