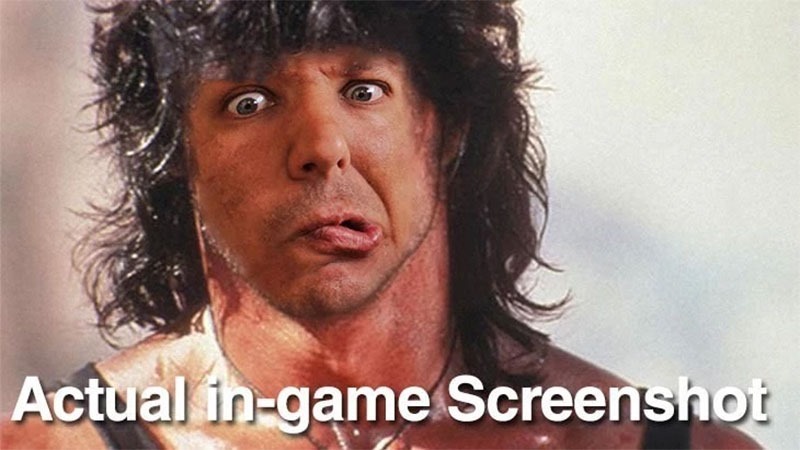 Released in 2014, the Rambo videogame was terrible. Absolutely, shockingly terrible; an affront to action games, a slap in the face to fans of the homicidal red-banded soldier and a critical and commercial failure. We didn't review it, because nobody on staff is paid enough to sit through that sort of thing.
Here's what some of the people who did review it had to say:
IGN: It sounds trite but I cannot stress enough how much more fun I had watching the first three Rambo films back to back in preparation for this review. They're much cheaper and more entertaining than this game, and – even at just a shade over 90 minutes each – they lasted longer.

Eurogamer: It would have been nice to report that the underdog turns out to be a unstoppable champion, but that was never realistically on the cards. So instead we get this: a cheesy, silly, mindless romp in which hordes of identical bad guys get turned to sticky red paste under the furious gaze of your twitching gun barrel. It's certainly not a good game, but it is a game with zero irony. It's not being corny and schlocky on purpose, which means that for all its faults Rambo honestly taps into the spirit of 1980s action cinema more deeply than you might expect – not in spite of its rough edges, but because of them.

Meristation: Rambo: The Videogame is one of the worst games that we've ever played. Poor and simple mechanics, a total disaster in terms of graphics and another wasted movie license.

The Escapist: So this is Rambo: The Video Game. Ugly as sin, flimsy beyond belief, and chock full of some of the worst barely-interactive gameplay you'll "enjoy" so far this year. Watch Hot Shots: Part Deux. Like this game, it makes an absolute mockery of the Rambo films, but it's at least trying to be funny on purpose.
For some reason, the game is getting some DLC today. Yes, a two year old game that nobody should own is getting some DLC. Mercifully, it'll be released for free.
Called Baker Team, this DLC was supposed to have been released over a year ago, but was held up by…reasons. It's finally been approved, and is coming to the Ps3 and Steam versions of the game today.
Here's what's new:
3 NEW MISSIONS – Rambo leads Baker Team on a covert mission deep into Viet Cong territory.
UPGRADE YOUR RAMBO TO LEVEL 25 – Unlock all skill points and create the ultimate Rambo.
NEW DIFFICULTY SETTING: JOHN RAMBO – If Green Beret wasn't challenging enough, put your skills to the ultimate test in John Rambo mode. Your reward will be a score multiplier of x 1.5.
NEW WEAPONS – Five new weapons to get your Rambo hands on. Including the CAR15, MP44, SPAS12, XM79, and PPSH41. Weapons are unlocked via five new "Trautman Challenges."
NEW PERKS – Five new perks to experiment with! Use them to help get you through the toughest levels or create new builds to boost your scores and aim for those 3-star mission rankings.
8 NEW TROPHIES & ACHIEVEMENTS
Well, okay then.
Last Updated: April 19, 2016