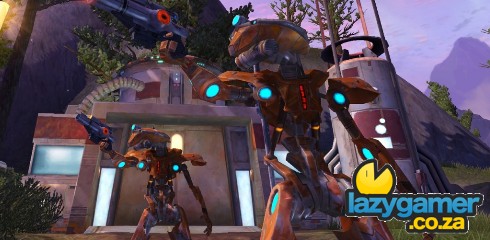 According to Shauna Perry, game director of audio and localization for Star Wars: The Old Republic, the script is so massive it sets a new benchmark for the titles of the MMO genre. The game is said to utilize hundreds of voice actors across five different cities.
Thus attempting to provide a voice-over for every character in the world. You may have guessed by now that this far surpasses World Of Warcraft. Perry even states that Kinights of the Old Republic has nothing on this title as she says,
"The Old Republic is the size of at least 10 KOTORs recorded back to back. Basically, it takes a very large team all focused on the same outcome – producing the most [voice-over] assets ever produced at the highest quality possible….on any given day, there can be over a dozen people working specifically on The Old Republic voice-over and that doesn't include any actors!"
To give you a decent comparison for the title, after only a third of the dialogue recording, The Old Republic's audio length is already more than the 86 episodes of The Sopranos.
Now for those of you that still don't understand the magnitude of this… lets face it, most gamers don't read all that much. Unless of course its gaming related i.e. lazygamer, gaming booklets, game subtitles or maybe our IM messages from our buddies. As far as writing professionally goes, we all struggle for work and worst of all – inspiration. And as far as I'm concerned, to be a part of that is something I wouldn't consider merely because I enjoy the bit of sanity and sleep I'm privileged to have.
Oh and no release date has been set but I can tell you that the title is currently being developed by Bioware and LucasArts.
Source: videogames
Last Updated: July 20, 2009