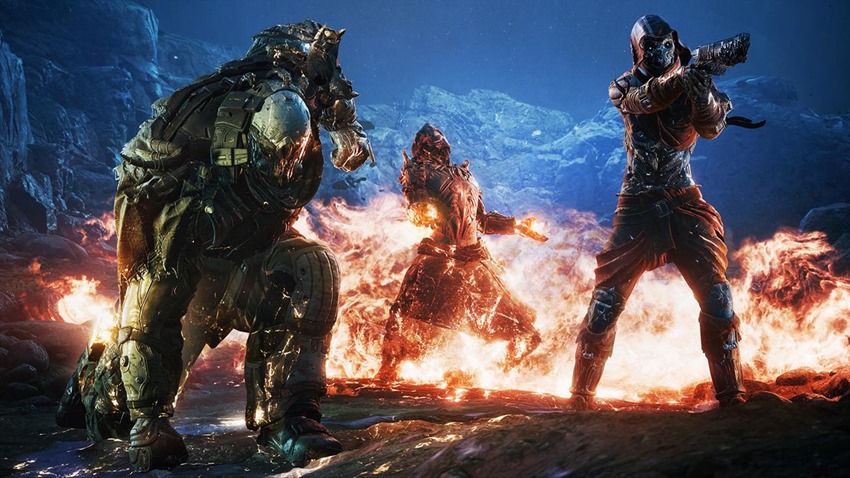 The Beatles once crooned that all you need is love, proving once and for all that the quartet of drugged-up minstrels are massive idiots. All you really need is a steady supply of chunky guns, a battlefield full of enemies to turn into bloody giblets, and unlimited temporal powers born from an alien storm that rewrote your existence on a quantum level.
If there's a main event reason to play Outriders, then it's the game's ability to make you feel like the biggest badass to ever walk the alien planet of Enoch. Presently, players have two great classes to play as and two others to ignore. Seriously, Technomancers and Pyromancers are rubbish, give me rock-bending offense or give me death.
The Trickster has naturally been the go-to class for many a player, but it turns out that the class might be a touch too powerful for developer People Can Fly's tastes. In the first major patch for Outriders, PCF will be fine-tuning the cooldown ability on the Trickster's powerful Twisted Rounds ability, as well as the Technomancer's Blighted Rounds, and the Pyromancer's Volcanic Rounds.
The patch notes are lengthy, but the key takeaway here is that you'll need to be a little bit more careful of when you pop that ability open as the cooldown period has been increased and the damage output has also been dialled back a bit. "While we fully intend to provide the overpowered feel for the best builds out there, we are also committed to making sure that there is build diversity in the top performing builds," PCF explained.
We have made a couple of adjustments for the Trickster and Technomancer classes, who benefit the most from their bullet abilities power. It's uncertain as to whether these changes will prove too strong or too weak, so please do consider this to be only the first step, as we will continue monitoring and adjusting them in the future. Just like you, we hope to see more inspiring and crazy combinations of Abilities and Mods!
The base cooldown of the Twisted Rounds skill has increased to 25 seconds (Previously: 16 seconds)
The Trickster's Hero Tree nodes: – Disruptive Firepower, Scion of Power, Outrider Executioner – have had their power reduced to 35% (Previously: 50%)
"Vulnerable" status – Power reduced to 15% (Previously: 25%)
The Technomancer Hero Tree node -"Damage Against Poison" – has had its power reduced to 15% (Previously: 30%)
The Pyromancer Hero Tree Node – "Trial of Ashes" – has been reduced 15% extra damage (Previously: 30%)
A number of other balance changes have been announced, with an eye towards making Outriders more challenging. Outriders launched with some rocky server support last week, and as recompense for having to stare at an infinite loading screen while a collection of tubas shouted at you, PCF is handing out a legendary weapon and a large chunk of titanium.
Last Updated: April 9, 2021