Overwatch has been preparing for one of their famed timed events for weeks now, with the recently published short-comic surrounding a past Omnic skirmish basically setting things in stone. Just yesterday some of the new skins included in the event were leaked, before the entire event was spoiled by a prematurely uploaded trailer. Overwatch Insurrection is taking things back seven years, and pitting you against waves of Omnic foes.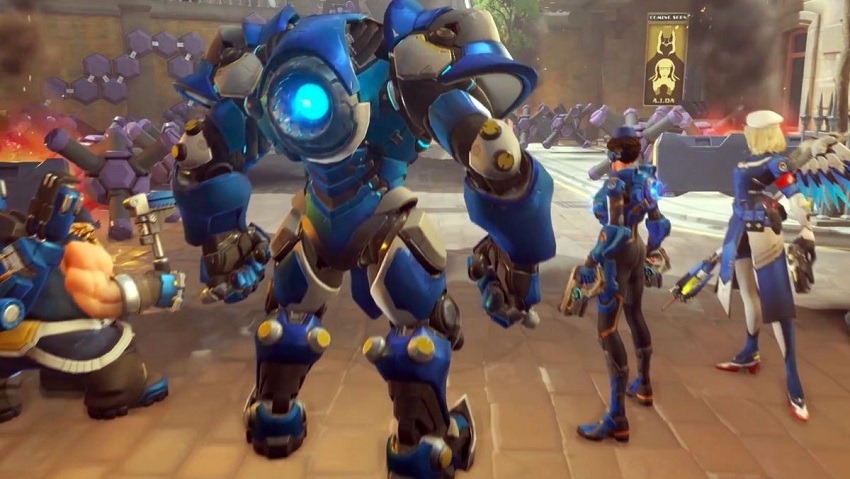 In a similar fashion to the Halloween Junkenstein's Revenge event, Insurrection looks like it'll introduce a new co-operative PvE mode set in King's Row. The battle was a pivotal one in Overwatch lore, with members Tracer, Mercy, Reinhardt and Torbjorn all staring down thousands of autonomous enemies. There's no indication of how the mode shakes up the rule set, but if it's anything like the previous PvE effort expect mini-bosses, a point of defence and many, many tiny enemies to blast through.
It's not an Overwatch event without new loot though, and Insurrection has you covered. Along with the four bright blue Agent Overwatch skins for the aforementioned heroes, several other characters will be getting some new threads to show off. McCree and Genji will get to sport some pretty gorgeous Blackwatch gear, while Widowmaker looks to be getting her first legendary skin since launch. They sit alongside a collection of items that exceeds 100 in count, including new sprays, intro screens, emotes and more.
Like every other Overwatch event, Insurrection will be quite limited. The event is apparently going to end on May 1st, according to the description included with the video. That already gives players less than three weeks to play, with Insurrection apparently going live across all platforms sometime today. Look out for that new update.
Last Updated: April 11, 2017