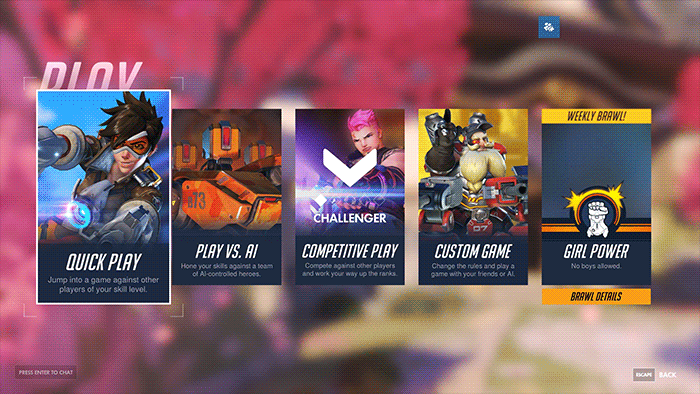 Call me a shameless Overwatch fanboy, and you'd be right. Blizzard's shooter isn't even out yet, but I'm already so enamoured by it, that it's all I talk about at the dinner table.
If anybody asks me anything even remotely related to the game or even something completely unrelated (pass the peas please), I fire off into a detailed discussion of characters, tactics, and even the awesome animated shorts (which coincidentally, I've written about too – you can read about it all here and here). I also like to brag about how amazing I am at the game, which may or may not be true.
Well, thanks to Overwatch's latest patch, I'll have the opportunity to put my money where my mouth is. Blizzard have now thrown a competitive play mode into the shooter.
Earned some battlefield experience and ready to step up your game? Prove yourself in Competitive Play!

Designed for those seeking more of a challenge, Competitive Play is our new game mode in which players can compete against one another and "rank up" through a series of divisions and tiers on a seasonal basis. We've been working and iterating on this feature for a while now, and are excited to give testers a chance to try it out an in-development version of the system in the Closed Beta.
I was wondering when such a mode would be added. Other competitive Blizzard titles, like StarCraft II and Hearthstone for example, have the option for casual and ranked play. Now Overwatch does too, though, its system takes some inspiration from the the one found in Heroes of the Storm. Before a player can dive into competitive, they have to spend some time grinding up experience in casual.
We know that most players who are interested in Competitive Play are likely looking for more serious games and would prefer not to be matched up with people who are brand new or still relatively inexperienced. As a result, and unlike our other Play modes, Competitive Play will be locked until you reach level 25.While it doesn't take very long to get to level 25, we feel that by time you hit that milestone, you should have the right level of familiarity with the game, maps, heroes, and key gameplay concepts to be ready for this
I find that very fair. Any player, no matter how experienced they are in the FPS genre, should at least understand how Overwatch and its various maps and characters work before they subject themselves to that more intense, competitive environment.
If you'd like to find out more about Overwatch's competitive play, you can do so right here. Otherwise, here's a video from the Game's Director, Jeff Kaplan, which explains everything quite nicely.
Overwatch is out on May 24th, on PC, PlayStation 4, and Xbox One. Will you be getting it?
Last Updated: April 7, 2016