League of Legends has been one of the most dominant games around the globe since its birth in 2009. The popular MOBA has brought us one of the largest player and viewer bases in eSports history, and large portion of that has come from South Korea who have not only dominated the competitive scene, but also maintained a monopolized hold on players in their country. For the past four years League of Legends has held the higher 1% in terms of players, which was previously shared with games like Starcraft. While Dota 2 has slowly crept its way into the scene it failed to make a real dent with League of Legends still holding the gap feeling somewhat untouched.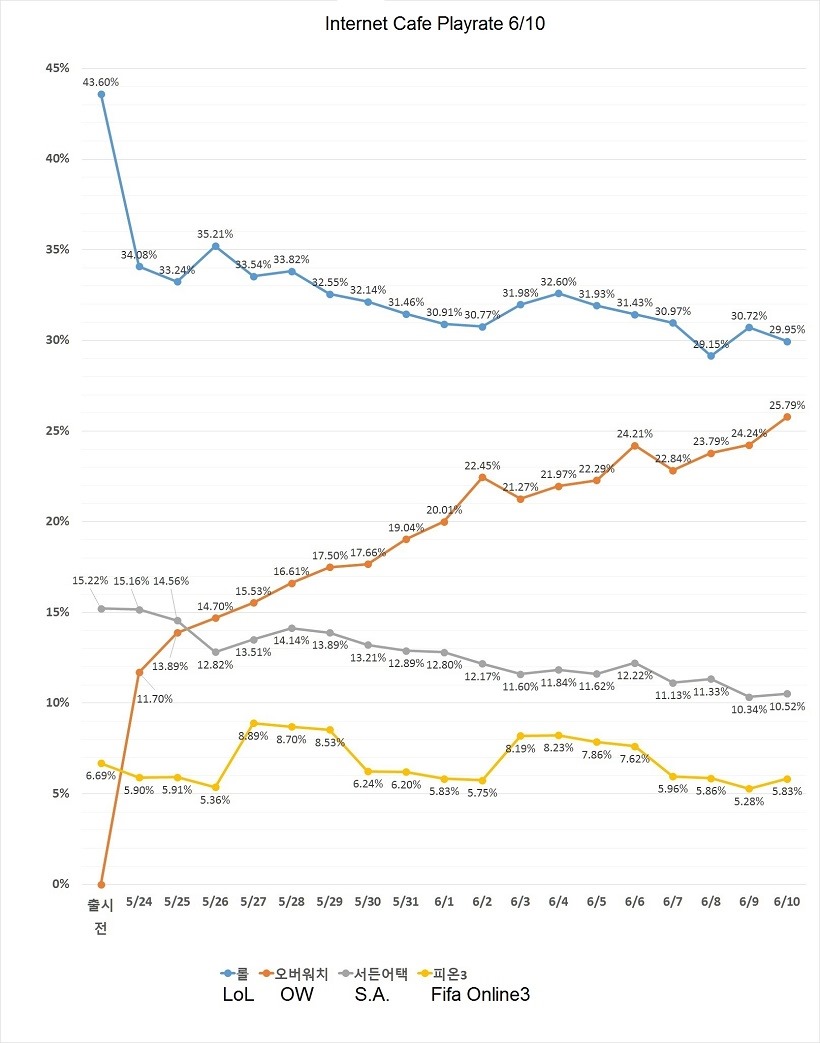 Up until recently, League of Legends' monopoly hold on the 1% went unchallenged, until Overwatch arrived. Overwatch on PC is slowly chasing down League of Legends and this is largely due to the social structuring of PC gaming in South Korea. Internet cafes, where most young gamers play, offers the game for free with an hourly fee and this is what has bolstered the player base.
Here's an old Korean professional Team Fortress 2 player trying out Overwatch.
Gametrics, a site which tracks games in South Korea, released their latest numbers showing that Overwatch had a 24% share in second place with League of Legends sitting with 29%. According to Riot Games, roughly 67 million people play every month, 27 million every day, and during peak hours close to 7.5 million people are playing at the same time. Overwatch announced just a few days ago that over 10 million Agents have been activated on Overwatch, suggesting this number to be slowing closing in on bigger titles noting that game was only released a few weeks ago. While this is primarily PC, the prospects of causing League of Legends to drop below the 30% mark for the first time in 3 years is huge for Overwatch, and testament to the amount of work and effort Blizzard are putting in to make this game unlike any other. What's worth noting as well is that Overwatch is a pay to play game with all future releases (or DLCs) being completely free, a model which sits well with consumers considering the outcry for other eSports titles who offer a pay to play game and paid for DLCs.
Now, the question is, will Overwatch be another eSport dominated by the Koreans?
Like esports?
Check out esports central
Last Updated: June 17, 2016