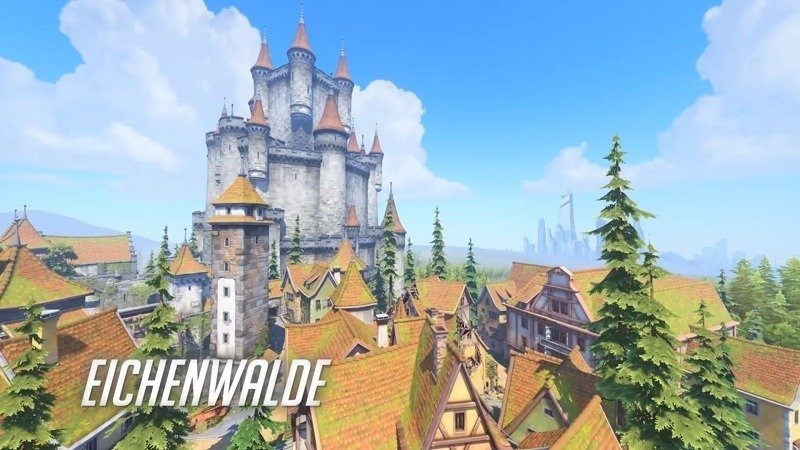 At Gamescom last week, Blizzard unveiled a brand new map for Overwatch, called Eichenwalde (I-kin-vault, if you were wondering how to pronounce it). It features a grand castle, which I'm sure many are eager to explore.
If you're one of them, you're going to have to wait a bit unfortunately. Eichenwalde is only coming to the shooter next month sometime.
If you're keen to check it out now already though, I have some good news. Or rather, Jeff Kaplan, Overwatch's Game Director does. He posted the following message on the shooter's official forum…
Eichenwalde is now available for testing on the PTR. The map has been added to the Quick Play and Competitive rotations. We've also added a Brawl that specifically focuses on Eichenwalde (for those who just want to test the new map).
Hallelujah! I downloaded the Overwatch Public Test Realm version immediately to check Eichenwalde out. I recorded my quick session too because REASONS! Please exuse the random lag spikes of death…
If you can't watch the video for whatever reason, fear not! I've snapped some screenshots for your viewing pleasure.
Eichenwalde sure looks grand from the outside, but admittedly, I am a bit underwhelmed by how teeny its inside play area is. I was expecting more great halls and bigger rooms I suppose.
I was running around the map alone however. I'm sure when eleven more people are thrown into the mix, it's going to be pure, enjoyable chaos! That outside bridge in particular is going to create some pretty epic moments for sure.
Anyhow, if you'd like to try Eichnwalde out, all you need to do is download the PTR edition of Overwatch. Simply select it from the region tab in the Battlenet desktop app and download it if you are interested.
The new map isn't the only thing you'll get to test out. There're two new Reinhardt skins available too, along with the shooter's second competitive season.
Last Updated: August 23, 2016