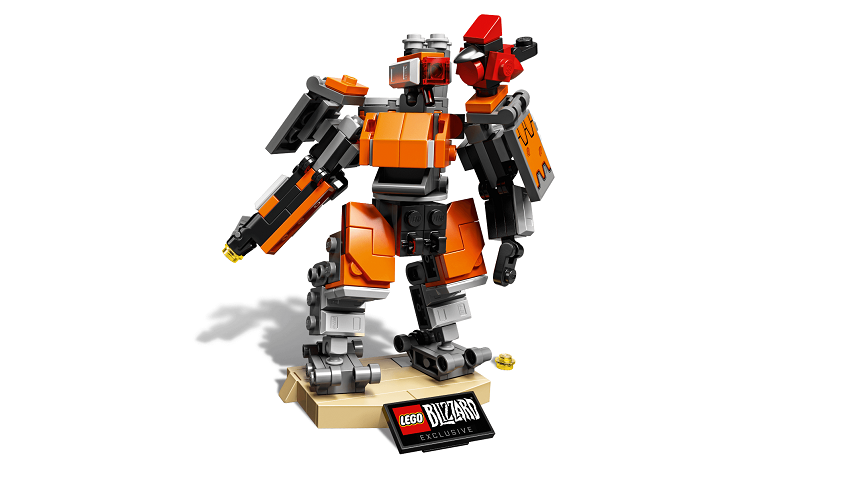 Overwatch and LEGO sounds like a match made in heaven, given Blizzard's shooter is still extremely popular as is everyone's inherent love for building things out of colour little plastic bricks. With the large roster at their disposal, LEGO has a lot to pull from too. There's not just every single character, but their alternative costumes, ancillary characters from each of their backstories and more. Yet, for their launch, Blizzard and LEGO are choosing to go with one figure for now: a bright orange, single mode Bastion with a working machine gun.
Sporting his Omnic Crisis look, this first LEGO creation is of Bastion in his normal bipedal mode. It's a little on the small side, with only 180 blocks required for construction and no way to morph him into his more deadly turret mode. You'll get a neat stand that features the Overwatch logo for you to put little Bastion on, and he's available for purchase exclusively from the Blizzard Gear Store right now for just $25.
A big feature of the set is Bastion's ability to propel little LEGO blocks across a room with his functioning machine gun, which you can undoubtedly use to launch pieces of plastic to the detriment of any barefooted individual within range. Bastion will also come with a nice red version of his aviary companion, Ganymede. It just wouldn't be a Bastion creation without the character's love for nature, and Ganymede looks rather adorable.
With Blizzcon just around the corner it's likely that we'll see many more planned LEGO sets revealed at the show, perhaps with more complexity and heft to them after this rather reserved introduction. It's still a great set to own for any Overwatch fan, but I'm really looking forward to interpretations of more hulking characters like D.Va and Wrecking Ball.
Last Updated: October 11, 2018