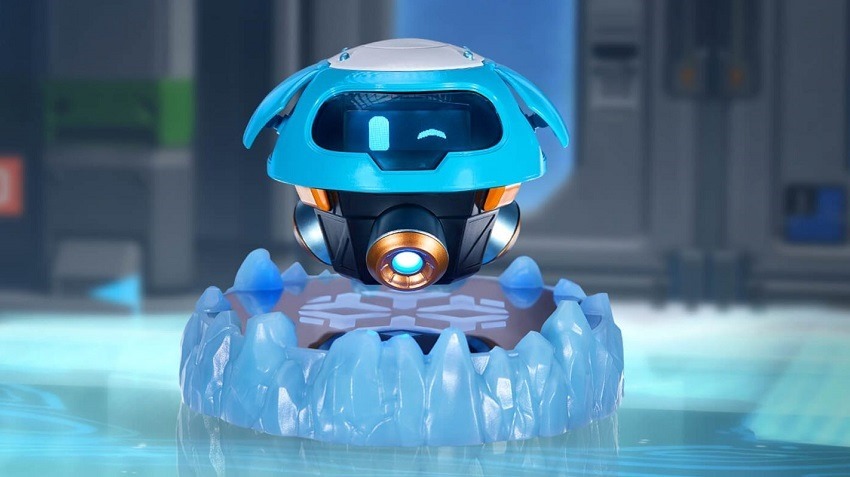 The only thing I like more than playing Overwatch is drooling over the incredible collectibles Blizzard have been pushing out for their incredibly popular shooter. We've had amazing figures for characters such as D.Va, Genji, Widowmaker, Tracer and more, but now Blizzard is branching out to include more accessory-like items. It started with a replica of Genji's glowing green sword, which might look nice mounted on a wall. But it pales in comparison to their latest addition – a magnetically floating, LCD emoting replica of Mei's robotic buddy, Snowball.
Snowball made a big impression during Mei's short film, with its delightful expressions and whimsical blue design. Blizzard have kept both close to heart with this new collectible, which features a scaled replica of the robot with all the right details in place. You get the candy blue shell with illuminating thrusters around the base, which create the illusion that Snowball is actually floating on your desk. That's actually thanks to the magnetic base, which levitates and rotates Snowball indefinitely using reverse polarity. Now, who the hell doesn't want that on their work desk?
https://twitter.com/PlayOverwatch/status/1047914760128233472
Snowball will also feature an LCD display for eyes, which allows the collectible to emote with all sorts of expressions. It looks to be randomly cycling through the available ones, but there's no question that you'll be able to pick your favourite and go from there. The base also features USB charging, which you can use to keep your iPhone charged while you marvel at Snowball just floating there. It's just so darn gosh adorable.
Snowball is up for pre-order on Blizzard's website now, with shipments expected to start just before Christmas on December 15th. Who else do you want to see Blizzard recreate in high-quality plastic form next?
Last Updated: October 5, 2018