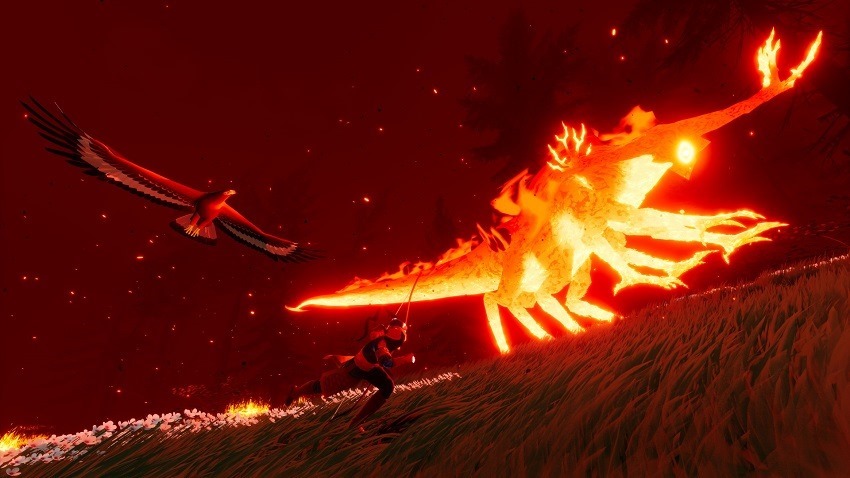 Abzu, the debut title from Giant Squid Studios, was pretty much what you'd expect from the people that founded it. Headed up by the former Art Director on thatgamecompany's Journey, Abzu was a tranquil adventure in the ocean, combining some swimmingly good underwater control with stunning colourful biomes to gently drift through. It was the same type of easy-going experience as Journey, but I'm not sure I can say the same for Giant Squid's next title. Revealed at The Game Awards, The Pathless looks like it has more in common with Shadow of the Colossus, albeit with the same artistic touches as before.
Kicking off the scuba gear for something more comfortable, The Pathless feature a robed archer in an adventure across a strange mystical land. There's dimly lit caverns and a rapturous mountain on the horizon, juxtaposed with dense, gloomy forestry and curious wildlife. It's less straightforward than the mysterious trappings of the underwater Abzu, and that extends to its gameplay too. As evident from the reveal below, you'll have far more agency in movement and combat this time around, skiing into battle before firing off arrows into a large enemy or skipping across large acres of lands with your trusty eagle companion.
It looks expansive, and the name might suggest a non-linear path to solve it all. Giant Squid hasn't detailed this latest project much beyond its reveal, but you can expect it to drop sometime in 2019. Check out our latest review of Abzu for Nintendo Switch to see what the studio has achieved already.
Last Updated: December 7, 2018