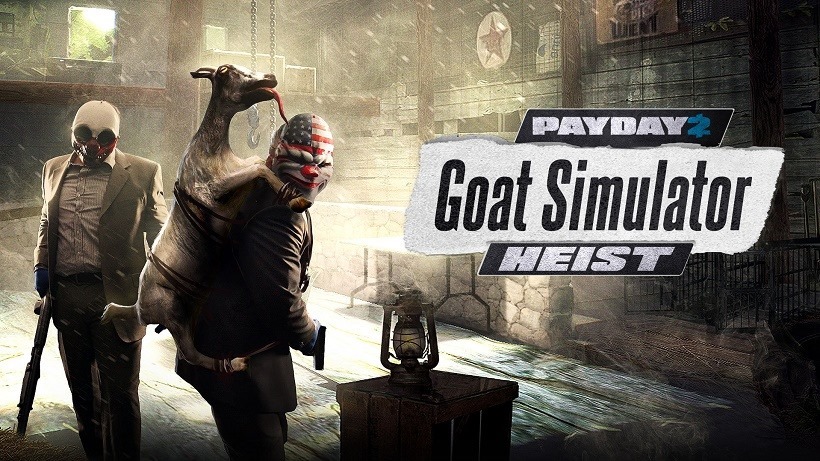 What? Don't look at me like that – I merely write the news, not make it. Believe me, I find the idea of Payday 2 crossing paths with Goat Simulator just as confusing as you do!
It's a real thing though, and one that'll cost you some cold hard cash if you want in on the action. Let's take a look at what's coming to each title (via Destructoid):
Payday 2: Goat Simulator Heist ($6.99)
The premise for Goat Simulator Heist is… interesting. Take a look for yourself:
When the Payday gang were ordered by Vlad to intercept a truck carrying cocaine, they expected to act as clean-up and collect the goods. Easy peasy. Or at least that's what they thought. But as they arrive on the scene and see the crashed trick, there are no cocaine packages in sight… only goats… and chaos…
Wow, 10/10 exposition! Story aside, here's what your hard earned cash will earn you if you're interested in grabbing this DLC:
A new 2-day heist
1 new shotgun secondary weapon
4 melee weapons
4 masks
4 patterns
4 materials
5 new achievements
2 new songs by Simon Viklund
Goat Simulator Payday ($4.99)
The premise for Goat Simulator Payday is far more interesting in my opinion. Here's the seriously serious trailer, and the features that are packed into the DLC…
Use your goat crew to smash & grab, then blast away all your money at Mahatma Gambling and the Indian casino just like in that Al Cappuccino movie
Do Pranks, Get Paid.
FOUR AWESOME GOATS, seriously these guys are like they're from an Al Pancake movie.
PRANKNET – The static contract database.
Buy things, use your easy-earned cash to buy masks. Mostly masks. Okay only masks.
More masks – because obviously we haven't been clear enough.
Unlock new, even dumber stuff.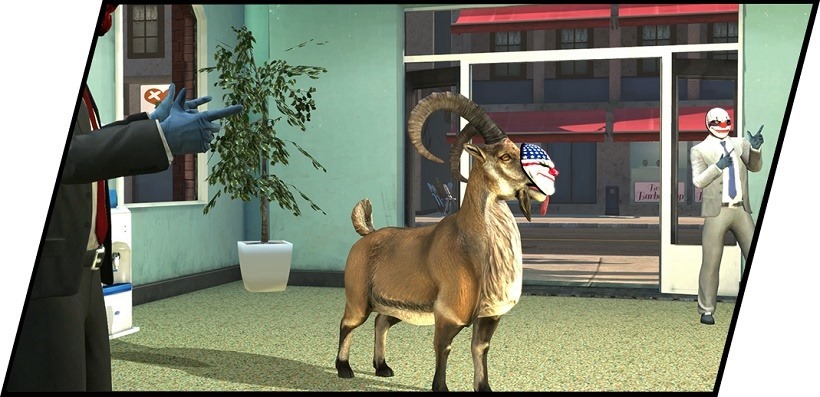 I don't play either game, but if I had to choose, I would definitely pick the Goat Simulator DLC. It looks like far more fun, and is even cheaper than the Payday content for some reason.
What about you? Does any of this above content appeal to you?
Last Updated: January 14, 2016