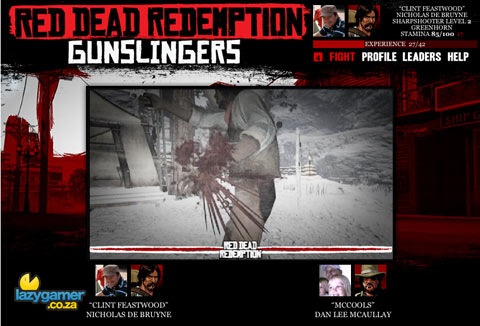 Rockstar Games, in their ongoing marketing campaign for Red Dead Redemption have released a Facebook app that lets you duel it out with your buddies.
I've never actually played a Facebook game so this was my first. One of the cool things about it though is that the duels play out in video sequences (the actual duel is basically stats driven with random "dice rolls" if you want to call it that) and these sequences are actually taken from the actual game. This means that you can get your first decent look at the dueling in the game.
More and a link to the game after the jump.
Now about that sucking part. I won my first duel, and was pretty chuffed with my "Clint Feastwood" character that I had made, but then proceeded to get my ass all shot up for the next 8 or so duels in a row. I finally managed to win one again, but barely escaped alive when the opponent nearly killed me by shooting me in the knee (?).
I'd rather play the real Red Dead Redemption, and goodness knows that I only hope that I have better luck in the real duels.
Check it out by clicking through the Facebook link below.
Red Dead Redemption: Gunslingers [Facebook]
Source: Examiner
Last Updated: April 13, 2010