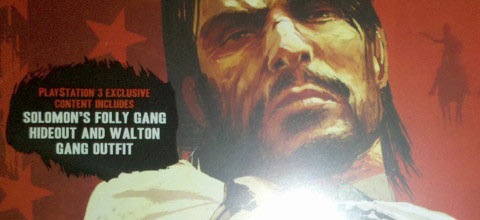 Rockstar's Red Dead Redemption hits our shelves this week, and excitement is high for what people are already calling a very good contender for game of the year.
If you are lucky enough to own more than one HD console, and have been on the fence about which version to buy, you may have just found your answer. Red Dead Redemption will include the Solomon's Folly Gang Hideout as well as the Walton Gang Outfit, but only on the Playstation 3.
You may remember that Rockstar is the very same company that gave the Xbox 360 the exclusive access to the two additional episodes for Grand Theft Auto IV, which as you all know, eventually came to the PS3 as well.
While this additional content isn't that spectacular, it's still more than you would get for the same price when buying the Xbox 360 version. If that doesn't make your mind up for you, then you can never go wrong (thanks to multiplayer) by simply buying the same version that all of your friends will be buying.
[Ed] It's a bit of a double-edged sword for South Africans though, as the Limited edition edition of the game will not be locally  available for PS3. If you want the LE content, you'll have to get the game on 360.
Source: Joystiq (and credit to them for the header image)
Last Updated: May 17, 2010