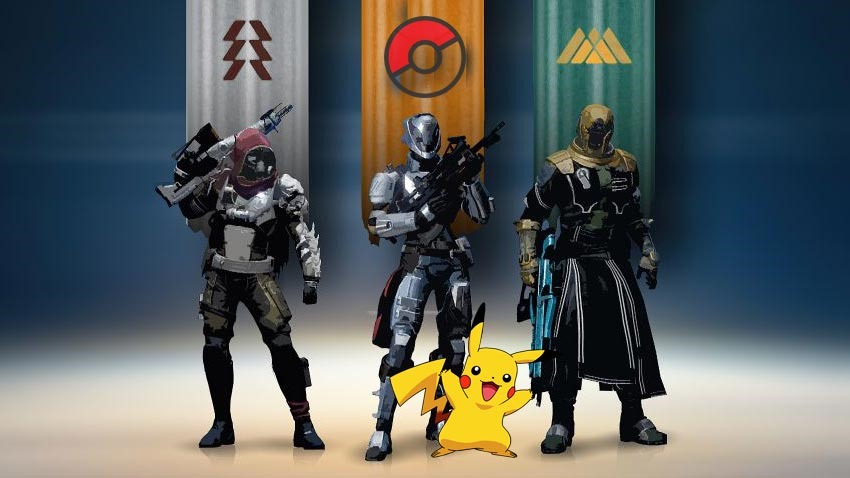 If there's two things to know about me, it's that I have a deep love for two games in particular: Pokémon and Destiny. Both games offer incredibly different experiences, but what if they were fused into one almighty being that was both cute and deadly? Then you'd have something that looks like this, as envisioned by the adorable fan art from Twitter user and artist Eun:
Take all my money, take it all and do what you want with it but just give me the Vanguard Pikachus already! Originally spotted by Game Informer, the art imagines Nintendo's license to print money pocket monster Pikachu as the three Vanguard leaders of Destiny: Cayde-6 the Hunter, Ikora the Warlock, and Zavala the Titan. I prefer to call them Cayde-Pik, Pikorachu, and Zavalachu, and nothing you say can convince me otherwise.
What makes the art such a standout is how it not only dresses Pikachu up as a god-killer in a dark future, but also adds a number of small details related to the Vanguard. Zavala's knitting hobby is on full display, Ikora's hobby for devouring entire libraries of knowledge sees Pikachu with its head buried in a book, and the Cayde-6 incarnation of the electric rat is slurping down a bowl of the hunter's favourite ramen noodles.
It's absolutely delightful stuff, and I need more.
Pokémon's got a big year or two ahead of it, as New Pokémon Snap launches next month, the year ends with remakes of Pokemon Diamond and Pearl, and 2022 has Pokémon Legends: Arceus on the way. As for Destiny, Bungie's cosmic sandbox continues to do what it does best. Ahead of next year's Witch Queen expansion, the game is halfway through the Season of the Chosen and is preparing for the upcoming Guardian Games that will give players the chance to deck their Warlocks, Hunters, and Titans out in spiffy Power Rangers gear.
Last Updated: March 24, 2021