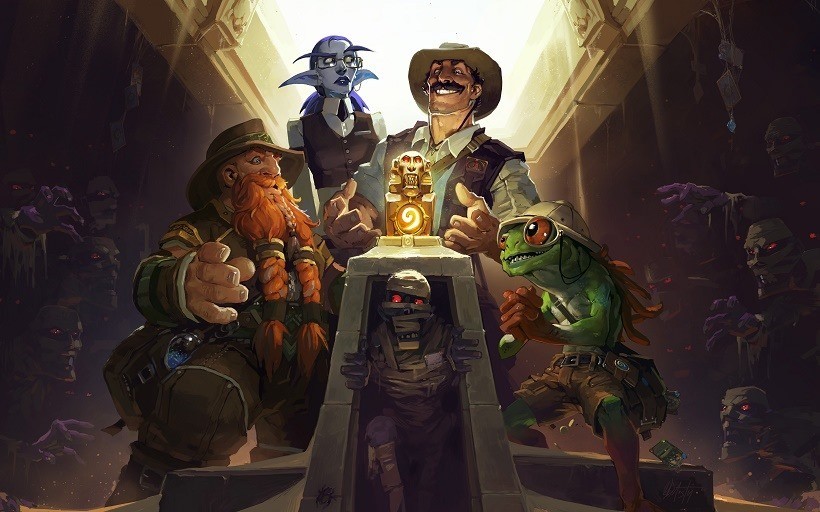 At BlizzCon, it was pretty inevitable that there would be a big Hearthstone announcement. Right on cue, Blizzard unveiled a brand new adventure for their stupidly addictive (yet wildly infuriating) card game. It's called the League of Explorers, and its premise is to have players join the likes of  Reno Jackson, Brann Bronzebeard, Elise Starseeker, and Sir Finley Mrrgglton, in a quest for ancient treasures.
Naturally, fans worldwide assumed that this new chunk of Hearthstone content would be released much further down the line – sometime in 2016 for example. I mean, this is Blizzard afterall, and we all know that they like to take their sweet time. Yet, jaws dropped like anvils, because out of nowhere, it was announced that The League of Explorers would be coming as soon as "next Thursday", and hey, that's today!
Grab your hat and join the League of Explorers to reclaim an ancient artifact of immense power! This all-new adventure includes:
An expedition through four exotic wings, with 45 all-new Hearthstone cards for your collection.
Two brand new game boards to explore with a treasure trove of click-ables to discover.
The new Discover keyword. Choose from one of three cards to place in your hand when you play a card with the Discover keyword on it.
I got some hands on time with the League of Explorers at BlizzCon, where I accompanied Reno Jackson on a wild escape from a crumbling temple. Yes, my opponent was quite literally a building.
What I experienced was a fraction of the adventure, but it was a lot of fun, and it got me super excited to see what the rest of the League of Explorers shenanigans would be like. I just need to go about grinding up a bunch of gold now so I can purchase all the wings!
Last Updated: November 12, 2015